| | |
| --- | --- |
| | It is currently Wed Dec 11, 2013 2:07 am |
View unanswered posts | View active topics
One Case to Store them All!
Article ID:
96

This article has been viewed 1414 times

Written by:
Morgul_King
Written on:
Sun Apr 12, 2009 8:41 pm
Article Description:
How to make your own Miniature Case

External link to this article:

http://www.one-ring.co.uk/kb.php?a=96
Now that my collection has become quite extensive, I thought of making a carrying case for my miniatures so that I can carry them to the battles and store them neatly at home. I've taken some ideas from the Games Workshop Case, but for the price it costs, I will be able to make a bigger one.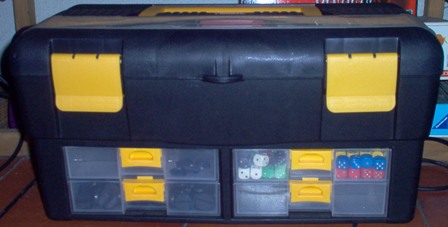 I paid 20 Euros for the toolbox and 7 Euros for the sponge and my miniature case has room for 360 models. The GW miniature case costs £30 (roughly 45 Euros), and it carries only 108 models, and you have to make the holes for mounted miniatures (or other large miniatures like trolls) yourself. Here I describe how to make the One Case to Store them All.
Materials needed

Box (for example a toolbox)
Sponge
Knife
Pen
Ruler
Lots of patience!
Getting the Materials
The Box
First thing is to get a suitable box that has enough room to store all your miniatures and also carry other things you need in games. The box can be of any type; mine is a toolbox I bought for 20 Euros from a supermarket.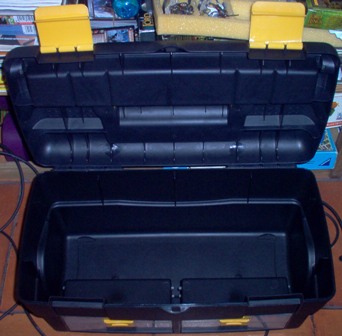 The Sponge
For all miniatures, the sponge should be 3 cm thick. Measure your box for the suitable width and length, and buy enough sponge (a roll or several sheets) to fill the whole box.
Ready-cut sponge trays are available (see a link at the end of the article), but where I live, there are no shops with those kinds of products. I would have had to order the sponge trays online, but I don't have a credit card. In my opinion, the price that you pay for cases and trays its not worth for the number of minis that you can put on it.
By cutting the sponge yourself, you can get it for the different kinds of miniatures that you have. In addition to that, you can buy the miniature case on the size that you wish. If you have plenty of models, you can carry a lot more miniatures than in the usual miniatures cases.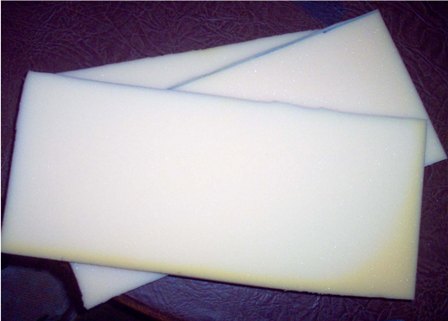 Measuring and marking the holes
Once you have the materials lets get to the job! First of all you need to measure the box to get the correct size for your sponge so that it will fit snugly inside the case. For my case, I made 2 different layers, the first is 13.5 cm x 46.5 cm (5.3 in x 18.3 in), and the second is 21.5 cm x 46.5 cm (8.5 in x 18.3 in).
Once you have the different layers made, you can start measuring to mark the holes for the miniatures. For models on foot, you need 3.0 cm x 2.5 cm (1.2 in x 1 in) holes. The walls between the holes should be 1 cm (0.4 in) thick.
For mounted models, use 4.5 cm x 5.5 cm (1.8 x 2.2 in) holes.
Cutting
When you have made all the measurements, you can start cutting. This is the most boring part of the job! Start cutting along the edges of the hole, about 2.5 cm deep for infantry models.
When you have cut along all the sides of the hole, push the sponge a little bit and start cutting inside the hole from right to left where the bottom of the hole should be. Do the same for all the holes. Don't cut your finger.

Conclusion
I suggest you put one extra sponge layer on top of the pile for protecting the topmost miniatures.
I hope that this article helped you to understand one way to create all your own materials to store your minis. Hope that you've liked! If you need some help send me a message.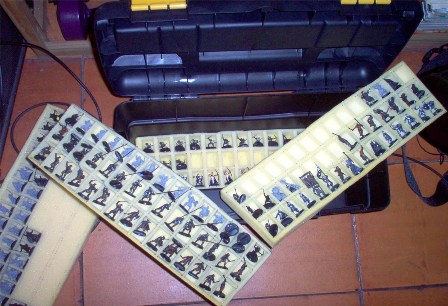 Link to ready-cut foam trays:
http://www.figuresincomfort.co.uk/foam_trays.htm

_________________
Slowly in fear The Dark Lord appears "Welcome to my lands you shall be damned" B.G.


Comments
There are no comments to this article.