| | |
| --- | --- |
| | It is currently Thu Dec 05, 2013 5:20 am |
View unanswered posts | View active topics
Legolas (Hero of the West)
Article ID:
92

This article has been viewed 1427 times

Written by:
Tobold Hornblower
Written on:
Mon Apr 13, 2009 2:12 am
Article Description:
A painting guide for Legolas from the Heroes of the West boxed set.

External link to this article:

http://www.one-ring.co.uk/kb.php?a=92
Materials Used:
Citadel Paints:
Skull White Primer
Skull White
Bleached Bone
Tanned Flesh
Dwarf Flesh
Elf Flesh
Goblin Green
Catachan Green
Dark Angels Green
Snakebite Leather
Dark Flesh
Bubonic Brown
Bestial Brown
Scorched Brown
Fortress Grey
Shadow Grey
Chaos Black

Metallic:
Chainmail
Mithril Silver
Shining Gold

Inks:
Brown Ink
Black Ink

Lacquers:
Sprayon Matte Lacquer
Testors Flat Clear Lacquer






Basing Materials:
Games Workshop Model Sand
Games Workshop Static Grass
White Glue (Woodglue/PVA)
Pratley Quickset Epoxy Glue
Pratley Quickset Epoxy Putty






Tools and Equipment:
Toothpicks
Games Workshop Model Files
Testors Aztek Airbrush
Introduction:
In response to the call for paint guides, I decided to put one together for Legolas. I had painted him three times before I tackled the Heroes of the West incarnation for this article, making him a good choice for an article.
Legolas is a joy to paint, with so many excellent sculpts of him to choose from. Some are better than others, depending on your preference. The Helm's Deep Legolas is my pick of the lot, as the detail is all there, and that foot on the rock just ties him into the base perfectly. The Amon-Hen Legolas is quite striking, but the fine detail has been left off his quiver, letting him down a bit. The original Fellowship Legolas is a fine sculpt too, but I have come to like the latter versions with the cloak. The cloak just seems to add something extra (yeah, I hear you say, a cloak). With new Legolas models having been released, there is surely a Legolas model out there that will suit your painting style and preference.
Whichever Legolas you settle for, this article is intended to provide you with a guide to painting him as close to the film version as possible, yet using colours you can reproduce every time. You will find no basecoat mixes using more than two colours here. In fact, most basecoats are single colours. Not good for winning painting contents, but great for maintaining your minis when they get handling damage.
Step 0 - Preparation:
You've no doubt heard this bit before, and will again, many times. For the sake of completeness, I will provide a brief outline of my method of preparation.
The first thing I do, after deciding to paint a given mini, is spend some time removing the flash and mould lines, as best I can. Flash is easy to spot (little strands of metal sticking off your precious model), but some of the mould lines are beyond my skill to remedy. Those I let be. The others are severely and swiftly dealt with, using my trusty files. Another issue with metal models is the bending that occurs. You've seen it before, twisted swords, spears resembling giant liquorice twists, and other such horrors. In the case of this Legolas model, the portion of the bow above his left hand and the knife in his right hand required some tweaking. My general approach for bent blades and bows is to grasp them lengthwise with small round-nose pliers (so as not to leave tool marks), and gently squeeze to straighten things out. I was lucky, and things worked out well.
Once the model seems clean enough, which is often hard to tell before priming with the metal ones due to the reflective surface, I glue it to the base. When the glue is dry, I fill in the underside of the base with putty, to provide some extra weight to the base of the model, making it more stable, and less likely to tip over when nudged. It also looks neater, which I see as an added bonus. I leave the putty to dry for a few hours, or overnight, then glue some sand to the upper surface of the base. Then, it's ready to prime.
I chose to prime this Legolas model in white. I started out priming in white because there was nothing else available, so it's natural that I prefer it, but there's more to this choice. In addition to creating a guide to painting this specific model, I wanted to make an attempt to show how a white basecoat can assist you, making highlights easier.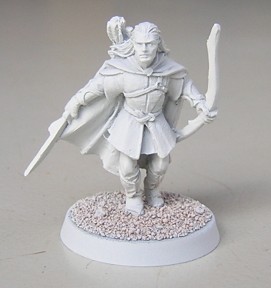 Take a moment to enjoy your figure after priming it. Just look at that mini! While in this state, it still has such enormous potential. This mini could go on to be a competition winner. Even expert painters start out with a mini in this state, assuming you didn't go crazy and apply too much primer. I like to appreciate the detail, not nearly as visible when still in it's raw metal state. I start thinking about what colours I will paint the various details, where his eyes might be looking, and any particular details that need special attention. A primed figure, in white, is one of the nicest sights in this hobby, as far as I'm concerned. For me, my minis never look as good as they do in this state. I'm always a little sad to start painting them, but leaving them all white would be too strange, even for me.
Step 1 - Skin and Hair:
I begin by painting Legolas's skin with a basecoat of Tanned Flesh. I make sure the paint is fairly thin, so I need to apply more than one coat, but it keeps the detail there. While doing so, I define the shape of his eyes. Another advantage to priming in white is that there is no need to paint white over the eyes (unless you mess up, of course). Don't worry if the eyes don't look perfectly symmetrical, as they seldom are, and they will look quite different when you paint in the pupils anyway. Also, don't worry about being too neat with the flesh basecoat, there is no need to pressure yourself this early in the proceedings. You will be painting over the other areas anyway, so relax.
If your paint is thin enough, you will notice that it works like a wash, only don't load up your brush! I always wipe the excess paint off my brush, hardly ever taking a brush straight from the palette to the model. The paint will still build up quicker in the recesses though, and create a "highlight guide" if you will, with the raised surfaces being lighter automatically. A black undercoat gives a reverse effect, the paint gathering in the recesses makes your raised areas darker, not lighter. Sure, you can paint your face with a lighter basecoat on top of that, or be prepared to apply more coats, but a white basecoat gives the effect right off the bat, with no extra coats required.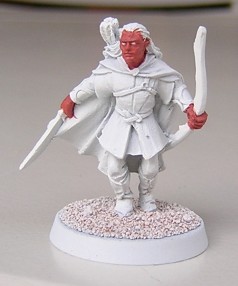 For me, the eyes are the most important feature of a mini. If the model's eyes aren't acceptable, I'll never be happy with it, no matter how well the rest goes. In the film, the colour of his eyes seems to vary, being sometimes blue, sometimes brown. I know Orland Bloom had to wear contact lenses to make his eyes blue, and complained that he could hardly see anything with them in. That being the case, this could simply be a continuity error, moments when they forgot to insert the contacts, or at times when he needed to be able to see what he was doing!

I try to get my models fairly close to the film, and this includes the eye colour. I find the blue eyes more in tune with the fair looks and blonde hair. Blue paint can be a little too much though, so I prefer to use Shadow Grey instead. I try to imagine a point the figure might be looking at, and then dot in the pupils accordingly. I use a very small brush (00000) and carefully touch the tip to the eye where I imagine the pupils should be.
A good trick is to have both eyes all the way to one side, like the picture of Legolas above, on the right. This is easier to do, and adds a lot of character. You can't abuse it though, or all your models will be looking to one side or other, and that will just look silly. For this Legolas model, I chose to have him looking slightly to his right, which suits the pose, I think.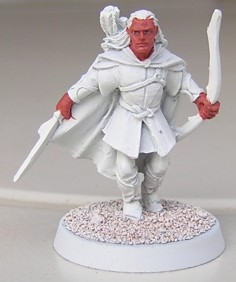 When dotting in the pupils, you can mess paint above and below the eye, because you can fix it with some Tanned Flesh. Just be careful to the left and right, where you could destroy the white, which is a little harder to correct. When you are happy that your eyes look acceptable, resist the urge to make them better. They will automatically look a lot better after the skin is highlighted.
I decided to paint Legolas's hair with a basecoat of Snakebite Leather, the colour I've always used to basecoat his hair. Again, you will find that a white undercoat allows the paint to build up and form natural highlights. It's up to you how many coats you want to apply, but you can still use the lighter areas as a guide during the highlight stages.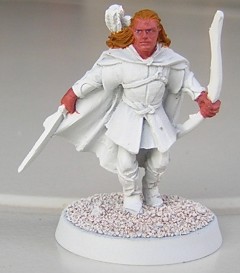 After base coating the skin and hair, I take some Chaos Black and do some "lining in". Basically, I apply black to most of the borders, the lines where different areas meet, and any areas I intend to paint with darker or metallic colours. This makes it easier to create some shadow in these areas later on. I do this now, before any highlighting, because mistakes are easier to correct. All I need to do to correct any mistakes at this point is apply Tanned Flesh for the skin, or Snakebite Leather for the hair. If I have already highlighted theses areas, any mistakes with the black are much harder to correct.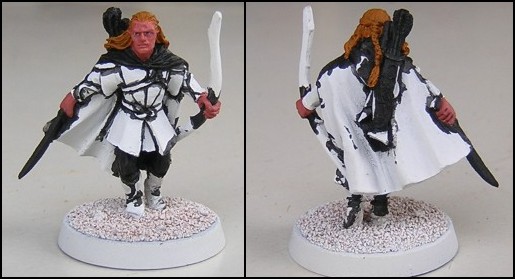 Now it is time to highlight Legolas's skin. I dilute all flesh tones to the point that they are transparent. This lets me build up the highlights gradually, allowing for mistakes. How many highlight stages you go through is, of course, up to you, but I went with 4 stages on top of the Tanned Flesh basecoat. That may sound like a lot, but I don't spend too much time on any stage, preferring subtle highlights.
For the first highlight, I apply a coat of Dwarf Flesh, in all but the deepest recesses. I try to leave a thin line of Tanned Flesh around the eyes, and between the lips. Take it slow, and wipe off excess paint from your brush. There should never be a lot of paint on your brush when painting faces this way, as dilute paint will run if it gets the chance, and that can ruin the eyes you spent so much time on. The second highlight coat is a mix of approximately 70% Dwarf Flesh and 30% Elf Flesh. All I do is back out a little more, trying to imagine what areas might look better if they were lighter. There are some areas that I cover with every highlight stage. These include the bridge of his nose, the forehead immediately above the eyes, and the tips of his ears. For the third highlight stage, I used a mix of approximately 30% Dwarf Flesh and 70% Elf Flesh. These are rough estimates, and I do not prepare a new mix from scratch for each stage, but rather just add more Elf Flesh to the same mix. Just remember to add more water as you add more Elf Flesh, or the more opaque paint will look too strong on your model. For the last highlight stage however, I do abandon my mix, and use pure Elf Flesh, but diluted with lots of water!
The images below show the model after each stage, from left to right, top to bottom. As luck would have it, the sun came out for the last photo, so the model is lighter and brighter in that one. This is not me purposefully adjusting the brightness to make my highlights appear a lot better than they are, but it does help.
| | |
| --- | --- |
| Stage 1: Dwarf Flesh | Stage 2: 70% Dwarf Flesh, 30% Elf Flesh |
| | |
| --- | --- |
| Stage 3: 30% Dwarf Flesh, 70% Elf Flesh | Stage 4: Elf Flesh |
To highlight Legolas's hair, I begin with a mix of approximately 70% Snakebite Leather to 30% Bleached Bone. I try to follow the lines sculpted in his hair, as best I can. For successive highlights, I just add more Bleached Bone to the mix. I can't give you exact percentages, just add more Bleached Bone for each stage until it looks right to you.
The images below show the model after each stage, from left to right, top to bottom.
| | |
| --- | --- |
| Stage 1 | Stage 2 |
| | |
| --- | --- |
| Stage 3 | Stage 4 |
Step 2 - Belts, Quiver and Scabbards:
In the film, the belt around his waist was a dark brown, while the belt across his chest (for his quiver and knives) was a lighter brown. I chose to basecoat the quiver, the knife scabbards (technically sheaths, I should think) and their belt with Bestial Brown, and the regular belt with Scorched Brown. You could go for mixes here, and probably should for display models, but, as I said earlier, I prefer straight "out of the pot" colours as they make for easy fixing when paint gets damaged by handling, and allow me to recreate the colours easily when painting multiple figures.
I also chose to basecoat the arrow fletches (the feathers) at this stage, opting for Bubonic Brown. The detail on the quiver and the clasp on the quiver's belt I basecoated with Shining Gold, and the buckle/clasp on his regular belt I basecoated with Chainmail. I decided to leave the arrow shafts black, as they seem pretty much black to me in the film.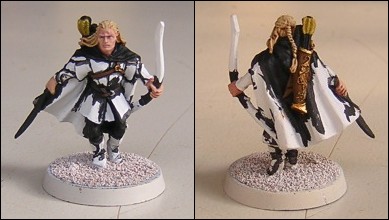 I highlighted the belts by adding Bleached Bone to the two colours respectively, and really just went over the top edges. The gold detail on the quiver, the gold clasp, and the arrow fletches received a wash of thinned Brown Ink. The ink runs nicely into the grooves in the fletches and creates instant detail, and it tones down the gold so that it doesn't look quite so fake. I forgot to highlight the arrow shafts, something I only noticed after reviewing the photographs, and took care of it by mixing some Chaos Black with just a touch of Bleached Bone, and gently drawing the brush along each arrow shaft.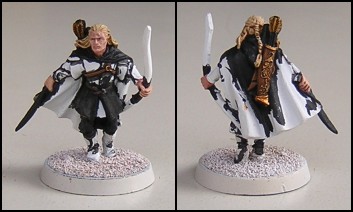 Step 3 - Jerkin:
Studying the film again, I realised I had been painting the padded, suede region of his jerkin the wrong colour. I always painted this padded area on his chest (forming a leaf shape pointed down) and the "leaf-like" sleeves over his shoulders a darker green, but it seems more brown to me now, as these stills show. The still on the right shows the contrast best, and is my favourite, as the colour of his jerkin proper seems to justify my preference for using Catachan Green and Bleached Bone to paint it.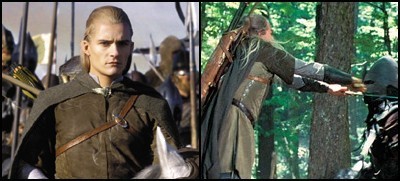 Now, looking at the above stills, it seems to me the brown, padded portion of his jerkin is darker than the belt across his chest, and lighter than the belt around his waist. Seeing as I painted these belts with Bestial and Scorched Brown respectively, I opted for a mix of the two colours, in approximately equal ratios. I added a little Bleached Bone for one highlight stage, and you can hardly see it, probably not at all in this photograph. I don't always highlight every part of a mini, and even when I do, it is often just a very small one. I would like to have a reason for this, but I don't even know why myself. Oh yes, now I remember. It's because I find them hard to do correctly, so the less I do, the better it looks.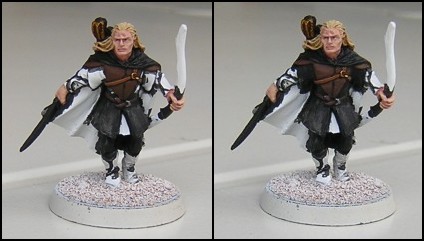 The rest of his jerkin I painted the same way I always have, with Catachan Green, adding Bleached Bone for each successive highlight stage. As mentioned above, I think the film still on the above right justifies this choice. Catachan Green highlights very well when dilute, and makes it quite easy to get good results, so I always enjoy this stage. Unfortunately though, I think this may be the worst of the last three Legolas models I have painted, in terms of my work on the green portion of the jerkin. For some reason, I struggled to get the highlights to look good this time.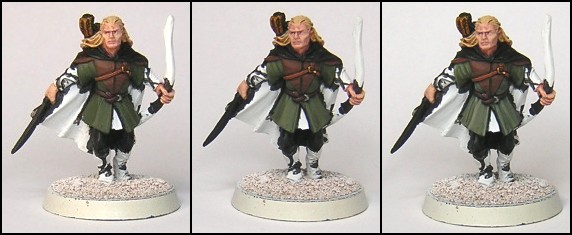 Step 4 - Boots and Bracers:
Previously, I had painted his bracers (the leather protection on his forearms) with Scorched Brown, but for this guide I decided to take a good look at the colours in the film. It turns out the bracers are a lot darker than I had first thought, as you can see in the stills below.

For this reason, I decided to add a little Chaos Black to the Scorched Brown, making his bracers darker, but not completely black. This is the same approach I had always used to paint his boots, so it made sense to do them both at the same time. Again, if you're after a display model, or a competition entry, you probably don't want to be painting two areas with the same colours, but it does save time, and makes it easy to remember what colours you used.
I will discuss the painting of his shirt later on, but because the bracers are so close to the shirt, and because I have shaky hands and a very unsteady eye (two of them actually), I basecoated the shirt at this point to avoid frustration. I will ask you, dear reader, to pretend that it doesn't matter, and just focus on the boots and bracers, please.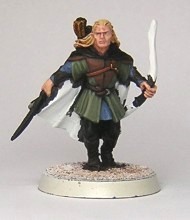 To highlight, I added a little Bleached Bone for each successive highlight stage. For the final highlight, I ran the brush carefully along some of the raised edges. The rather unspectacular results of the highlight effort can be seen below, but I must apologise for the image quality. It was only after I had moved on, while putting the photos in here, that I noticed how dark they were, and that you can't really see much at all. I will learn as I go. This article is the first time I managed to get indoor photography working, and I still need to tweak my technique a little.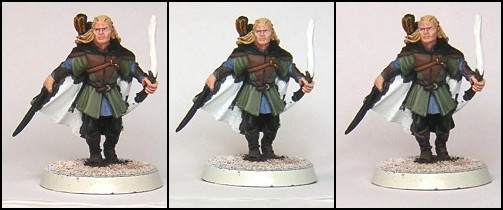 Step 5 - Pants:
Games Workshop have consistently painted Legolas's pants the same colour as his silky shirt. This has never looked right to me. I believe his pants look better when grey. I must concede though, that there are several moments in the film in which his shirt looks very grey too, while at other times it looks more blue. The following stills illustrate what I mean, with his pants looking clearly grey in the still on the left, while his shirt looks distinctly blue in the still on the right.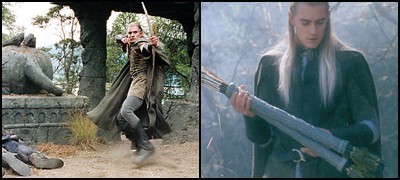 Even in pictures in which his shirt looks grey, his pants look darker still, almost black. I would be prepared to concede that his shirt is grey, but not that his pants are blue. I like the look of darker pants for him, even though the still above on the left shows them to be a lighter shade. To paint his pants then, I began with a mix of Chaos Black and just a touch of Bleached Bone, adding more Bleached Bone for each successive highlight stage. There is not much area to cover here, so one or two highlight stages should be all you require to obtain a satisfactory result. I went with two highlight stages myself, and thought it sufficient. Once again, the photos don't show much, but then the highlights are not that strong anyway.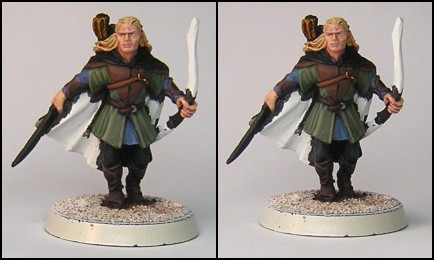 Step 6 - Shirt:
Thank you for waiting until now for me to get around to highlighting the shirt I basecoated two stages back. I often do this, and would have done it more when painting this model, but it would have made the article more disjointed than it already is. I have painted entire models by first basecoating all the areas, before adding a single highlight. This really helps for people who have a tough time getting the paintbrush to go where you want it. People like me. With patience and planning, you can fool a lot of people into thinking it's talent, but that's not the point. The point is you can get minis you're proud of, just by being careful and doing things in a specific order.
Now, back to the shirt. One could probably argue that it looks grey more often than it does blue, but I like the look of a blue shirt amongst the earthy greens and browns. One can find film stills easily enough that show the shirt to be a pale blue, or at least have a blue tint, as I illustrated above. Games Workshop have mentioned Space Wolves Grey in more than one paint guide for Legolas, but I prefer to use a basecoat of Shadow Grey (also a blue grey), adding Skull White for successive highlights. This allows me to build up the shirt from a darker basecoat, which I prefer. I needed just two highlight stages, shown below.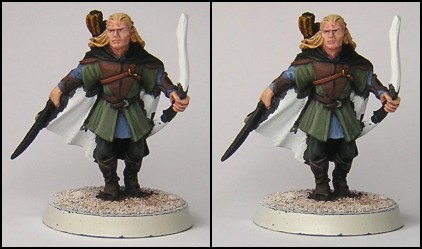 Step 7 - Fighting Knives:
Allowing for personal taste, I mostly try to stick close to the colours in the film, and will use any and all references at my disposal. I am fortunate enough to own a pair of the Legolas Fighting Knives licensed reproductions by United Cutlery, so finding the right colour for them is particularly easy. I thought I'd include a photo of the handle here to show how ornate they are. I have no ability for freehand work, but for those who do, adding this detail would be incredible. I photographed it on my paint station so as to show all the brushstrokes made to remove excess paint from my brush while painting thus far. I always wipe the brush off on the paper before touching it to the model. I change the paper for each new model, as it also serves as a colour palette reference for the model.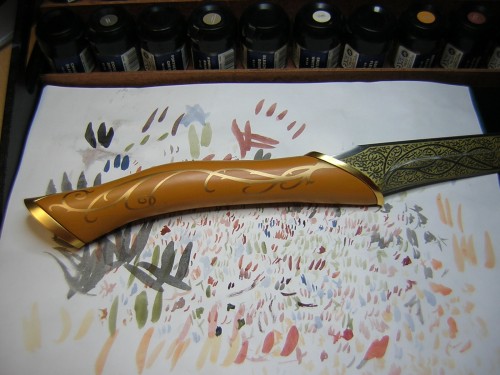 I find the best colour match for the knife handle is Bestial Brown mixed with a fair amount of Bleached Bone. The base of the handle, and the guard, I painted with Shining Gold. The blade I painted with Chainmail. Don't forget about the other knife, still in it's sheath on his back. While doing this I noticed I had not painted a portion of the arrow fletches, and quickly fixed that up. I didn't do much in the way of highlights, with the areas being so small. I merely gave the gold bits a wash of dilute Brown Ink, and ran a line of Mithril Silver down the top edge of the blade, as well as along the cutting edge. I also gave the blade a light wash of very dilute Black Ink.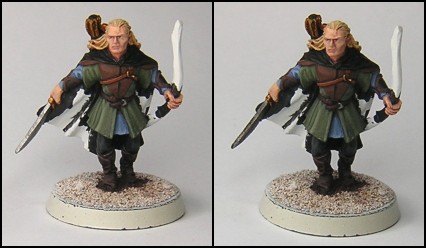 Step 8 - Cloak:
Normally, the cloak is the last thing I paint on a model before tackling the base. With this model, however, the bow serves as a handy grip. I rest my finger on the top, allowing me to hold the model upside down, making it easier to get to the more tricky recesses. For this reason, I left it until last. I basecoated the cloak with a mix of Goblin Green and Chaos Black. Games Workshop say 50/50 for the ratio, but it's easy to eyeball it to your liking, as you'll easily see if it's too light. The elven broach received a basecoat of Dark Angels Green before I went over the detail with Chainmail.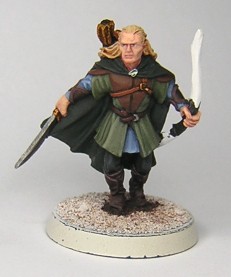 For each successive highlight stage, I added Fortress Grey. I mostly add Bleached Bone for highlights, but for the elven cloaks Fortress Grey seems to look better. The cloaks do have a grey tinge to them, in most scenes. I cannot do proper (wet) blending, so I try to add just enough Fortress Grey for each stage to change the colour so slightly that painting it on in layers looks a little like proper blending. It doesn't, of course, but it looks good enough for me.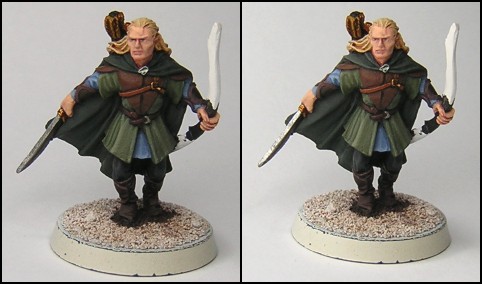 Step 9 - Bow:
I have been told be some that I was doing my bows for Legolas far too light, and I have to agree with them. I decided this time to simply use Bestial Brown to basecoat the bow, and then add some hardly visible highlights by adding a touch of my old standby, Bleached Bone. The results are not impressive at all, looking rather too simplistic, but you'll have no problems retouching this bow when a rude warg or Uruk sends poor Legolas sprawling.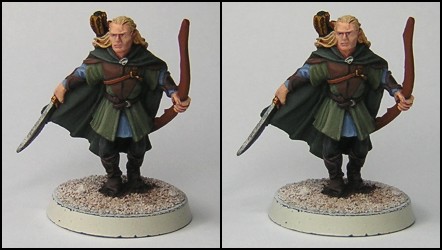 Step 10 - Basing Part 1 (Painting):
While painting a model, my main purchase is the base. For those of you who don't try to use vocabulary to sound clever, what I mean is simply that I hold my precious mini while painting it by clutching the base tightly in my sweaty right paw. This takes it's toll on the base, and the more observant reader will have noticed the base edge taking strain as the article progressed. To remove any finger grease, I wipe the sides of the base with tissue, sometimes moistened with a little spit (eeeuww!). At this point I've probably lost half of you readers, no doubt to seek a suitable receptacle into which to bring up your last meal. Hey, it removes grease better than water, you know!
It is, of course, much easier to paint the base if your fingers aren't in the way. For this reason, I attach the model to an old box or some such object, using a product called Prestik (you may know it as Blu-Tac). Essentially, it's sticky stuff you can use to attach posters to the wall, or keep ornaments in place(or ruin a good carpet or hairstyle if you aren't careful). This allows me to work on the base without it having to touch anything until I am done.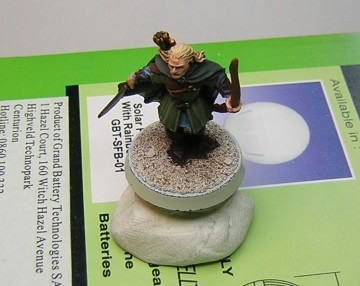 With the model safely secured, I spread Scorched Brown, diluted of course, all over the model sand. You don't need to paint this on, and shouldn't really, as it can both obscure the sand texture (if your paint is too thick) and accelerate the demise of your brush. I prefer to really just touch a loaded brush to the sand, allowing it to drink up the paint. You may have noticed that the sand was painted around Legolas's boots before. This is not me just being messy. By deliberately extending the painting of his boots to the surrounding sand, I can paint the sand around his feet with less risk of making a mistake. If the sand around his feet was still white, I might end up messing paint on his boots. It shouldn't take long before the sand looks right.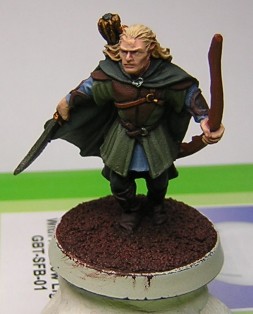 Now it is time to paint the base edge, or rim. I will still have to highlight the sand, by drybrushing, and that will mean messing the highlight colour on the base edge, but I still prefer to paint the edge now, and touch it up again later. My choice of base edge colour has always been Dark Flesh. To give the base edge a smooth appearance, I use very dilute paint. To show you just how dilute, the picture below shows what it looks like after a few brush strokes to get things going. You can see that the paint is so thin that it works more like a stain than paint. It requires some patience, but not much more time is involved, as acrylic paint dries quickly. Of course, it helps if you're obsessive.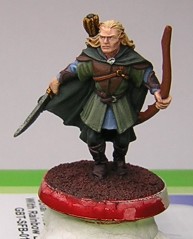 If you want to speed things up (I generally do this), you can use thicker Dark Flesh to paint the top of the base edge (where it meets the sand), using the thinner paint for the sides of the base only. It takes more coats this way, for sure, but it shouldn't be too long before you have a suitably smooth base edge.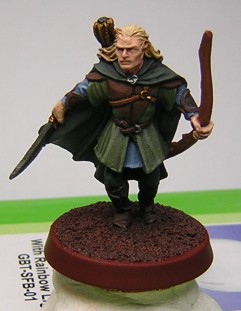 For the first highlight, I use a mix I read about ages ago in a Games Workshop painting guide, Snakebite Leather and Fortress Grey. It's something I would like to move away from, as getting the same colour every time is not easy for me, but seeing as all my other bases are painted this way, I continue with it for now. I just try to get a sandy yellow, not too bright, and not too grey. No diluting this time, as I want the paint nice and thick. I then drybrush the sand liberally with this mixture.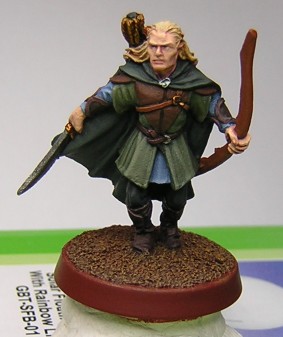 For a second highlight, I use Bleached Bone, all on it's own. This is one of the few times I allow myself to take paint directly from the pot, and it's always quite liberating to do so. I try to be sparing with the drybrushing this time, so as to create lighter patches, breaking the uniformity of the ground. I'm rarely successful, as drybrushing the base sand is so easy, the results coming so readily, that it's hard not to get carried away.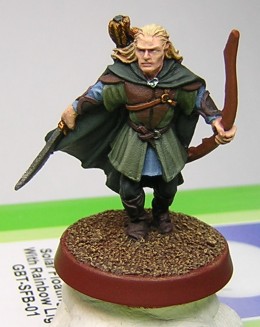 You should be able to see where the drybrushing spilt over onto the base edge in the picture above. Just one or two more coats of the dilute Dark Flesh mix, and it's easily remedied, leaving your base looking nice and tidy.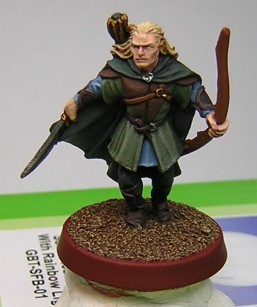 Step 11 - Sealing:
From the moment I got into this hobby I was sure I'd be playing the game, and thus that my models would need protection (um, I hope that sounds less creepy than it reads). Anyway, I found that a hardware (DIY) store variety matte lacquer spraypaint gives a very strong protective coat. This sort of paint is not truly matte by hobby standards, but I fix that later with a coat of hobby lacquer. You need to be of strong character if you do this, as your mini will look quite horrible, as you can see below.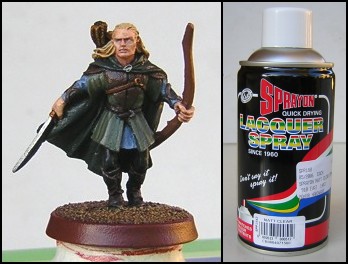 I give the lacquer sufficient time to dry, usually a few hours, before applying the matte coat. I like to leave the base edge covered with this semi-gloss lacquer. It just looks nice to me, and the matte mini looks that much more matte when the base edge has a semi-gloss finish. For this reason, I cover up the base edge with more Prestik (Blu-Tac) before I airbrush with the second coat of matte lacquer (which is truly matte this time).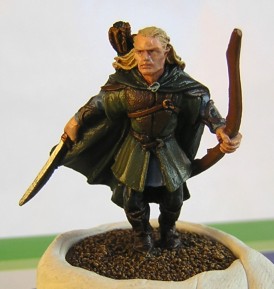 I use an Aztek airbrush for the airbrushing on a coat of Testors Flat Clear Lacquer, which is without a doubt my "secret weapon" in this hobby. It restores a matte finish to the model that is nicer for me than it looked before I applied the coat above. I'm still learning about using the airbrush (I used to brush on the lacquer), but it seems I will be sticking with the airbrush method for the uniformity of the finish it provides. Brushing it on gives you more control, allowing you to leave armour and such more glossy, so there really are pros to both approaches.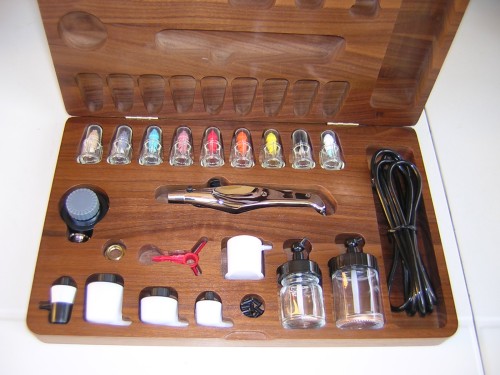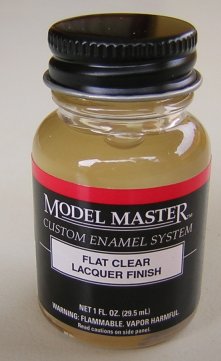 You can see from the picture below just how amazing the stuff is. Gone is the awful shiny finish, and in it's place, a perfectly matte one. I cannot recommend this stuff enough, if you favour a matte finish to your models, that is.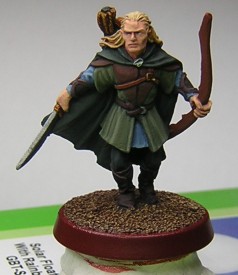 Step 12 - Basing Part 2 (Vegetation):
At some point I probably should investigate more interesting bases, at least more vegetation, but for the time being I prefer all my minis to have very similar bases, so that they match well on the gaming table. That means somewhere between 2 and 5 small clumps of static grass. I use a toothpick to place small blobs of white glue (woodglue/PVA) in selected places on the base. If it's not a competition piece, don't be afraid to place grass in a position that hides any part of the feet you're not happy with, it's not cheating to make your mini look as good as possible. For competitions though, any good judge will see through this trick.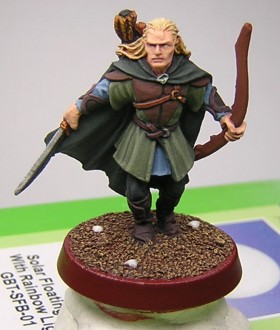 Once all the blobs are placed, I drop a pinch of static grass onto them and gently press down on them with my finger. I then turn the model upside down over my static grass container to remove the excess, before blowing and tapping on the base to dislodge the more stubborn bits. If any of the clumps look a little sparse (that is, there is still glue visible), I repeat the process. Once all the clumps look full enough, I tease the grass gently with a clean (no glue) toothpick, gently nudging it to lift the grass until it looks right. Often, this isn't necessary, but every now and then the grass refuses to play along.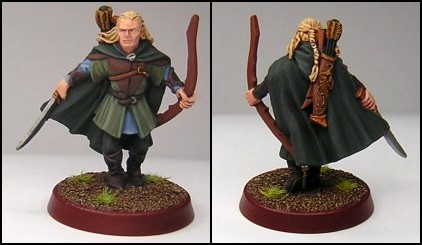 Conclusion:
Someone once commented that I paint my models with a "comic book" style. I didn't understand it then, but I do now. I paint with almost flat colours, the highlights so minimal that they're hardly there. I always try not to leave a single identifiable brush stroke. That gives my models a very flat look, with large patches of the same colour, like some (simple) comic books. I don't know why, because I admire those glorious models in which you see 3 or more different colours used on the same area, and plenty of brush strokes. Perhaps it's because I know I couldn't pull that off, and have fostered a style that gives me the best results without requiring artistic ability.
With my approach to painting these models, all that is required is patience, keeping things neat. There is no fancy blending, no NMM, no source lighting, nothing that will stretch anyone's ability. Of course, that means nothing that will win you any competitions either, but that's alright, it's not why I paint. I need models to take to the field of battle, with colours I can retouch easily when things get rough. What I wish most for anyone who paints models for this wonderful hobby, is that they enjoy it. I have spent too much time agonizing over colour choices, too much time being miserable because I can't paint like Peregrin Took, Griffo, or a host of other painters here.
When I look through the galleries here, I still manage to find that giddy excitement I felt when I first discovered this hobby almost two years ago. This hobby somehow brought back the feeling of being a kid again, and continues to do so, on a regular basis. Every now and then the hobby slips into the background, giving way to work and other evils. Then I'll see a beautifully highlighted mini in the latest White Dwarf, resplendent in bright shades, the face perfect. Then I'll feel like I did when I was 9 years old and rose at 5AM, caught the train, and stood outside the toy store in the pouring rain, my face pressed to the cold glass window, deciding which Kenner Star Wars figure I would buy with my birthday money, while I waited for them to open up. I have more money than that now, and spend less time in the rain, but the magic is here. My sincerest hope is that you'll find it too, if you haven't already.
Thank you for reading this article, and long may this hobby bring you joy.

_________________
"Use what talents you possess: the woods would be very silent if no birds sang there except those that sang best."

| | | | |
| --- | --- | --- | --- |
| | Page 1 of 1 | [ 1 Comments ] | |
Author
Comments

Wayfarer


Joined: Fri Oct 11, 2013 2:10 am

This was helpful. Thank you. (-





Top
| | | | |
| --- | --- | --- | --- |
| | Page 1 of 1 | [ 1 Comments ] | |