| | |
| --- | --- |
| | It is currently Fri Dec 13, 2013 1:51 am |
View unanswered posts | View active topics
The Muster of Middle-Earth Version 2.0
Article ID:
70

This article has been viewed 1633 times

Written by:
Osbad
Written on:
Sun Apr 12, 2009 9:42 pm
Article Description:
An update of the popular spreadsheet for keeping track of your model collection.

External link to this article:

http://www.one-ring.co.uk/kb.php?a=70
The Muster of Middle-earth
If you are a collector like me, by now your house or room will be overflowing with the outpourings of Games Workshop's forges - some painted and nicely displayed, others undercoated and many more still pristene in their blister packs or boxes.
[list][*]How many have I got?
[*]Who is my favourite sculptor?
[*]How much is my collection worth?
[*]Are there any "holes" in any particular factions or release-runs that I have missed?
[*]How long will it take me to paint my backlog?[/list:u]All these questions, and more, are answered in "The Muster of Middle-Earth", known affectionately to its friends as "MoME".
This is an Excel spreadsheet produced with the help of Adrian Champion (Parkingtigers) and Rich Shimmin (Skowsa) which allows you to manage your collection and keep tabs on what is going on. Originally produced in 2004, it has now been updated to include Scouring of the Shire, Mines of Moria and all the rest to October 2005.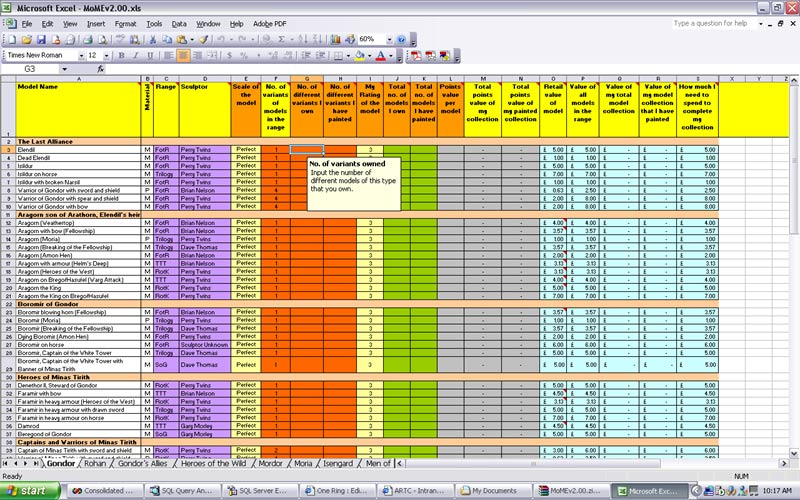 Warning, keep away from wives and parents: How much time and money you spend on your hobby might cause them (and therefore you) some distress!
Games Workshop are constantly releasing new stuff (thoughtful little blighters aren't they?) so the spreadsheet will constantly become out of date. It is our intention therefore to update MoME periodically as new information becomes available.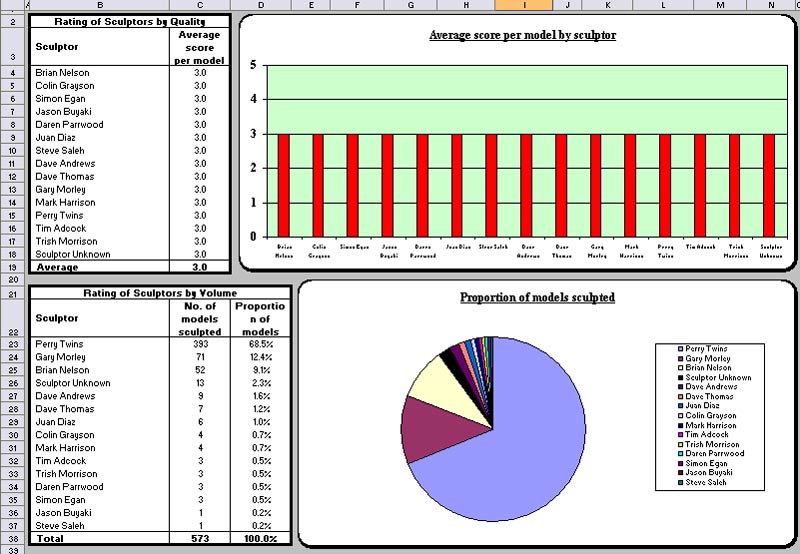 If you have any queries on how to use the spreadsheet, then I hope to provide help via the Article Library Feedback forum or email. However, please, please, please read the "User Guide" that is on the front page of the file before you do so.
You can download MoME version 2.0 (585kb) from http://premium1.uploadit.org/paulmullis/MoMEv2.00.zip.

(Note: to speed up data transfer and save bandwidth, MoME has been compressed into a .zip file. If you run an older version of Windows you will need to use an unzipping application such as Winzip to unpack it.)


Comments
There are no comments to this article.
Rate this article
Related Articles

This article is currently rated at 3
0 votes have been cast.