| | |
| --- | --- |
| | It is currently Thu Dec 12, 2013 4:37 am |
View unanswered posts | View active topics
NMM -Non-metallic Metal
Article ID:
62

This article has been viewed 12579 times

Written by:
Peregrin Took
Written on:
Mon Apr 13, 2009 1:34 am
Article Description:
A guide to painting without metallic paints

External link to this article:

http://www.one-ring.co.uk/kb.php?a=62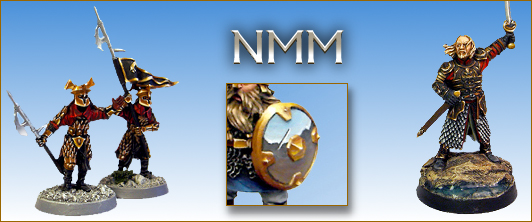 Introduction
When I saw a miniature painted with the Non-metallic Metal technique for the first time, I thought I could never achieve anything like it. I spent hours looking at NMM miniatures and guides on the
CoolMiniOrNot
website and slowly began to understand it. Even though at first I thought it was very difficult, now that I have more experience, It feels really simple. Many others would probably want to feel that way too, so instead of the usual step-by-step painting guides, I have written this guide. I have tried to keep it very simple and short, to avoid confusing people(No... I just wanted to make it easier for myself).
Colours for NMM
When painting NMM it is important to select the right colours. Here are my current "colour recipes" for gold and steel/silver:
Gold

Steel and silver

These are not the only paints/mixes I use, I also mix the colours listed here to create smoother blends. Four layers wouldn't be enough to achieve a smooth look.
Flat Surfaces
This is how I paint NMM on flat surfaces. The object in the picture is just a product of my imagination.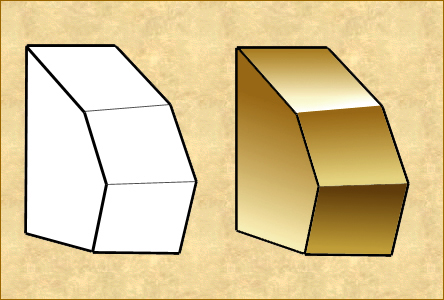 As you can see, painting NMM on this shape of object is very simple. Just divide it into sections and paint each one individually, so that the darkest colour is at the top of the section, and the lightest at the bottom. Sections facing up should be lighter and those facing down darker. Don't forget to highlight sharp edges facing up with a light colour(Bleached Bone or Skull White for gold and Skull White for silver/steel).
| | |
| --- | --- |
| | Note: the Balin model is unfinished. |
Swords
Swords can be painted this way: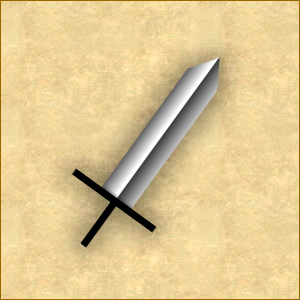 It's very simple(although difficult to paint on a small blade) and looks effective. Always paint the side of the blade facing up lighter. This is the same technique as the "Flat Surfaces"(above), but I'm repeating it just to make it clearer.
Curved Surfaces
When painting curved surfaces, you have to decide where the light is coming from(I usually imagine the light source almost directly above the model) and figure it out that way where the light reflects. This is very hard to explain and I usually just follow my instict when painting curved things, so I won't try to tell you more about this. You'll have to try it out yourself!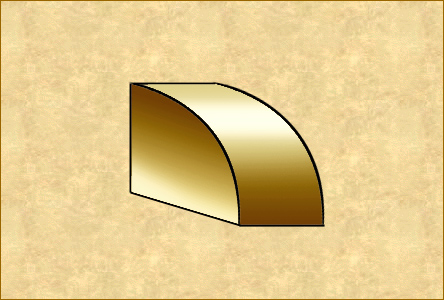 Look at the golden parts of the shield now, we'll come to the chrome later.


Chainmail
Painting NMM chainmail is fun! All you have to do to get a pretty good result is to paint the chainmail Codex Grey, then randomly drybrush it with a lighter grey and finally highlight the lighter areas with Skull White. Not the best technique, but it works!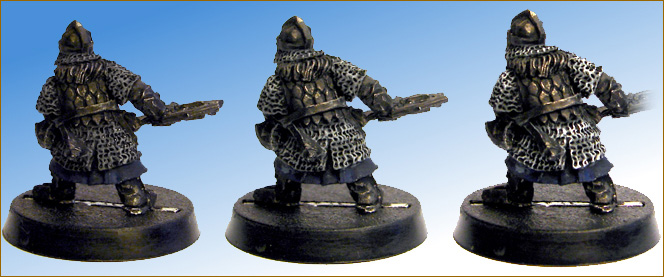 Sky-Earth NMM
Sky-Earth NMM is used when you want to create a very reflective looking metal surface. This is done simply by painting the surface to reflect the sky and earth. This is basically just like 'normal' NMM, but sections facing down will reflect the colour of the earth and sections facing up will reflect the sky.
If there is a surface that doesn't point up or down, you will have to paint the horizon on it. Like this: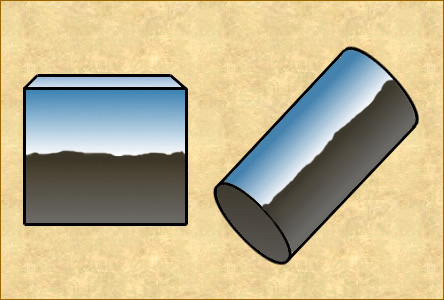 Conclusion
Not that difficult after all, eh? This guide has shown my way of painting NMM, which is most certainly not the best way, but I hope I have helped you to understand NMM better. If you want to learn more, look at miniatures painted with this technique(
CoolMiniOrNot
is the best place to look at). That's how I have learned very much.
I haven't told you everything about NMM in this guide and I might even have forgotten something important, so feel free to e-mail or PM me or post on the forums if you are unsure about something.
Thanks for reading and happy painting!

| | | | |
| --- | --- | --- | --- |
| | Page 1 of 1 | [ 3 Comments ] | |
Author
Comments

Kinsman


Joined: Sun Aug 07, 2011 1:38 am

My God, these are amazing.


_________________
Current Projects: Minas Tirith force; 36 WoMT, Officer, Standardbearer, Boromir, and 6 KoMT



Top

Joined: Thu Dec 06, 2012 5:58 pm
Location: West Yorkshire, England

This article may be three and a half years old, but I have only just seen it.
Wow.
No, really, wow.


_________________
"Naur an edraith ammen!", no thanks, we have central heating.



Top

Joined: Sun Jan 13, 2013 5:57 am
Location: Goblin-Town

How useful! Thanks!


_________________


Robert Downey Jr. wrote:

"Shwarma sales have increased 7 hundred percent.............. it's good for business





Top
| | | | |
| --- | --- | --- | --- |
| | Page 1 of 1 | [ 3 Comments ] | |