| | |
| --- | --- |
| | It is currently Wed Dec 04, 2013 10:25 pm |
View unanswered posts | View active topics
Twisted Trees
Article ID:
61

This article has been viewed 1536 times

Written by:
Dagorlad
Written on:
Sun Apr 12, 2009 11:03 pm
Article Description:
A simple guide to making sturdy, good looking trees for the gaming table

External link to this article:

http://www.one-ring.co.uk/kb.php?a=61
Tools Used
HB Pencil
Small saw
Sandpaper
Clippers
Pliers
Hobby Knife
Small Sieve (optional)

Materials Used
3mm MDF
Polystyrene Foam
Polyfilla
Copper wire (electrical cable)
Superglue (optional)
Green Stuff
PVA Glue
Sand, gravel, pebbles and twigs
Clump foliage
Static grass
Mixed flock
Leaf scatter

Paint Used
Chaos Black spray paint
Bestial Brown
Desert Yellow
Scorched Brown
Graveyard Earth
Kommando Khaki
Yellow Ink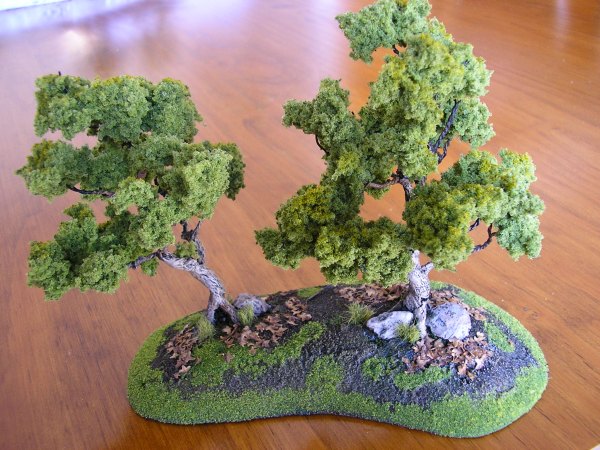 Introduction
One of the most attractive and useful pieces of terrain you can make for the gaming table is a small grove of trees. On its own, a single thicket of trees presents tactical difficulty to the player. When you place several thickets together on a table, they become a dark and gloomy forest that evokes a real sense of 'place' to a game, such as Mirkwood, Fangorn, or the Old Forest.
The trees produced by Games Workshop are extremely hard wearing, but (to me) bear very little resemblance to real trees. Trees for model railways look superb and are very realistic, but they fall apart so easily and are just not designed for use on a gaming table. Nope, the best way was to make my own.
I decided to make a series of small forest modules that can be used scattered freely on the table, or grouped together to form a dense band of woodland. The process is quick and simple and yet the results are very impressive. You may like to make several trees at the same time and work like a 'production line' moving from one step to the next, while waiting for glue to dry or whatever.
Step 1 - Building Your Base
The toolkit needed for this project is very simple, only the absolute basics are required. The materials are also readily found, either in a hardware shop or a hobby shop (and even your garden).
On a sheet of 3mm MDF, mark out a series of kidney shapes each one about 6 inches long and about 2 inches wide. Mark out as many as you really feel up to making (I made about 10 all told, and still need more). Cut the shapes out roughly with the small saw, and then sand each one into a smooth shape, bevelling the edges of the MDF.
Cut some chunks of white polystyrene foam to roughly fit over the MDF and fix it in place with PVA glue. Leave it to dry before doing the next step.
Once the glue has set, begin to shape the polystyrene into a smooth, low hill shape. I use a small saw to cut the foam initially and then sandpaper it to a smooth surface. If you own a foam cutter, then use that instead - its much quicker!
Cover the surface of the foam with a thin layer of polyfilla. This will provide a firm outer shell for the hillside that will resist damage during storage and use, and also enable you to spraypaint the whole thing later without risking melting the foam.
Step 2- Lets Do The Twist
Cut the electrical wire into lengths of about 30cm (12 inches) and strip the plastic insulation away from two or three wires. This will give you approximately 15 - 20 strands of copper wire.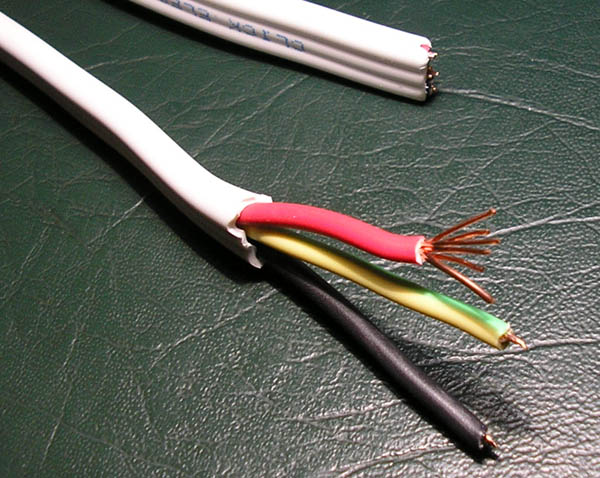 Take about 5 strands and bend them double so there is a loop at one end. Grip the looped ends with a pair of pliers and twist the wires together for about 1cm or so. Repeat this with the remaining wires in groups of 4 or 5 strands.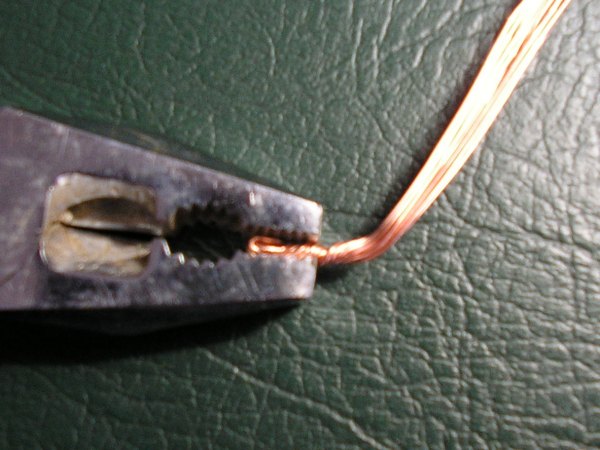 Hold the bunches of wire together and twist them tightly around each other. This can be a little difficult at first, because the wire bunches tend to come apart from each other. You can hold them in place with a drop or two of superglue though, but this is optional.
Separate 5 strands from the main bunch approximately 1-2 cm up from the base - these will form the first branch. Bend these strands at a right angle about 1 cm away from the main bunch, and then turn the strands like a crank handle. The strands will begin to twist themselves up to the point where you made the bend. Twist them as tightly as you can (but not too tight, because they'll break).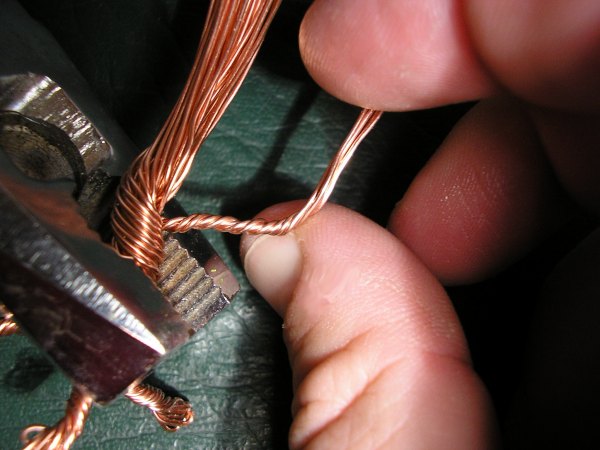 Now separate the 5 strands into two groups - one with 3 and one with two. Take one of groups and bend it at a right angle again, about 1 cm from the twisted part, and, once again, turn it like a crank handle to twist the wires tightly. Repeat this process for each of the groups of wires, twisting them then separating them into smaller groups, until there are only single strands remaining. Cut the single strands to about 1 - 1 ½ cm long using the clippers.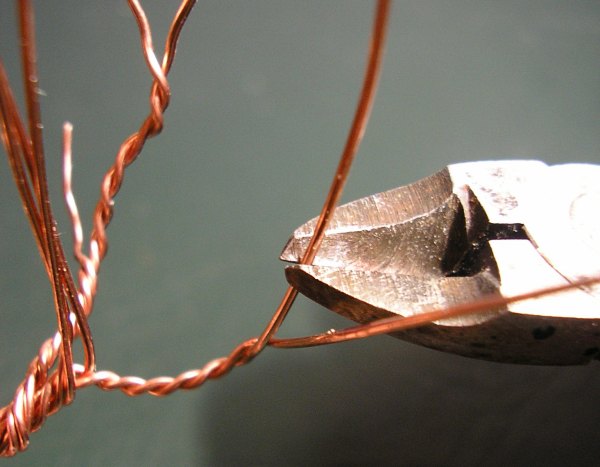 Repeat this process building up the basic tree shape.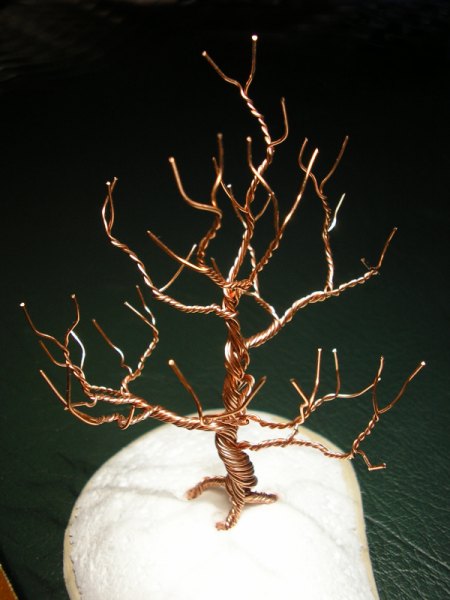 Step 3 - Barking up the Tree
Now we have the basic tree shape, its time to cover the wires and hide the twisted look as much as possible. For the lower regions, I use Green Stuff (or milliput) and for the upper branches, I recommend Polyfilla. The lower branches and trunk are pretty solid and not likely to bend much during use, so Green Stuff holds it in place firmly and can be sculpted to look like bark. The upper branches are the ones that tend to get bent a little during game play and so Polyfilla is a better option because it is flexible and will not easily crack.
Mix up some Green Stuff and smooth it over the surface of the wires. Take the end of your sculpting tool (or craft knife or toothpick or whatever) and make little dents into the green stuff to look like rough bark - it really doesn't have to be spectacularly detailed, just enough to give an impression.
Leave the looped ends uncovered because we'll use these as anchors to fix into the base later.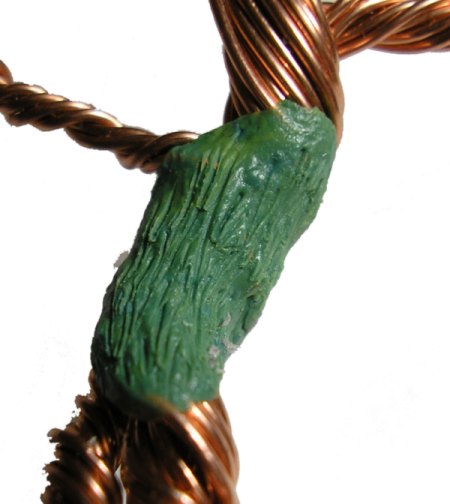 Let the Green Stuff set and then smooth on some Polyfilla onto the twisted upper branches. I usually dip my fingers in water and smooth the Polyfilla on by hand.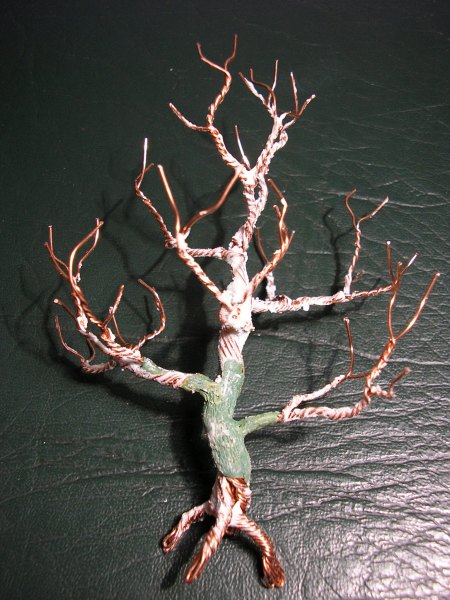 Step 4 - Mounting the Tree
The looped ends of the wires will act as the tree's roots. Spread them apart a little and poke them into the foam on the base you made earlier. Check the position of the tree and move it around until you are happy with its positioning. I usually put two or more trees on a single base, but its up to you how many you put on.
Remove the tree from the base and fill the holes you've just made up with PVA glue. Replace the tree and leave it to dry thoroughly.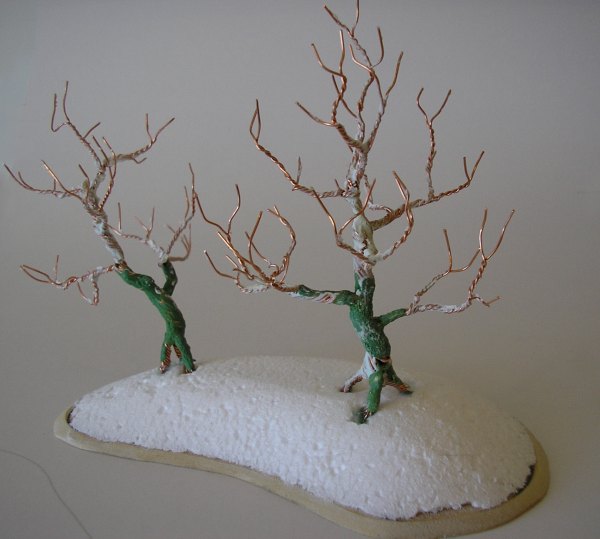 Step 5 - Covering Your Bases
Glue down a couple of small rocks if you wish, to add a little visual interest to the model. Cover the whole base with PVA glue and sprinkle sand over the whole thing. I use a small sieve to get an even coating, but this is optional.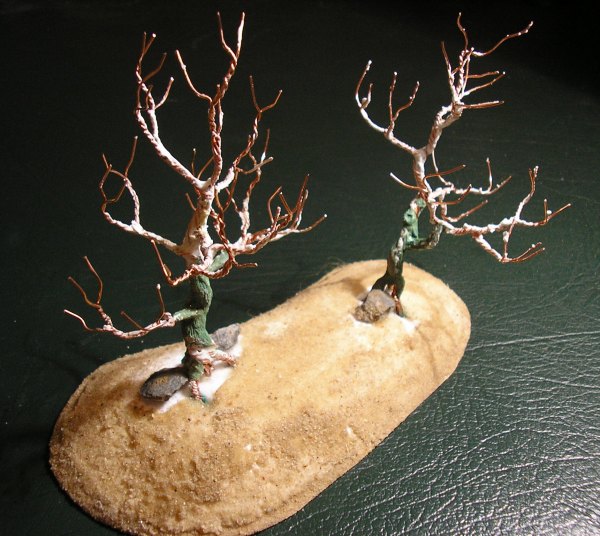 Step 6 - Painting
Spray the whole model with Chaos Black spraypaint. Once that is dry, drybrush the base and the rocks with Bestial Brown and again, lightly, with Desert Yellow.

Trees vary in colour from brown, to grey and even almost black, depending on the type of tree. These model trees aren't intended to represent specific species and so we'll just use a simple colour scheme.
Heavily drybrush the tree with Scorched Brown and then apply another light drybrushing of Graveyard Earth. Over the top of this, apply a final drybrush of Kommando Khaki.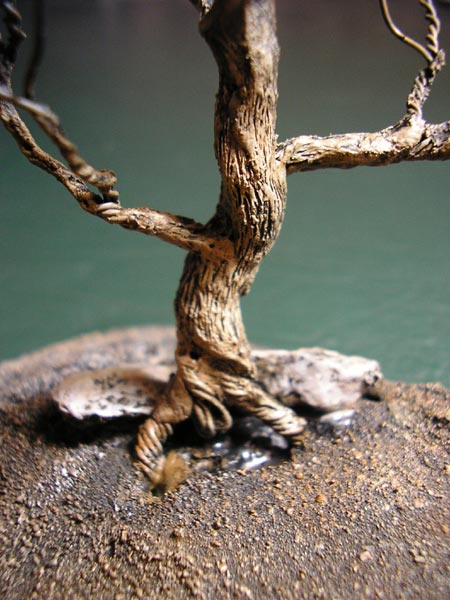 Step 7 - Get Flocked
The way you flock and add static grass depends on the colours you've used for other gaming pieces. I try to make all my terrain pieces match each other as much as possible, so that I can use them in any combination, and the choice of flock is the key to getting them all to match.
I generally use a combination of two colours of flock and then add clumps of static grass here and there to give a little variety to the piece. My personal preference is to use a mixture of 50% Woodland Scenics and 50% Heki flocks, and the static grass is Heki's Meadow Green. I also use Heki's Dark Green Wildgrass for extra long weeds. A complete list of items and product numbers is given at the end of the article.
One trick used by experienced terrain makers is to flock all the way around the entire edge of the base. This helps to blend the base into the gaming table and make it look less like it is just 'plonked' there (love that word - plonked).
Spread a thin layer of glue around the base and apply some small spots randomly over the ground as well. Sprinkle the mixed flock over the glue and then tip the model upside-down, gently tapping the model to shake loose any excess. Do this over a sheet of newspaper to catch the falling flock (its expensive).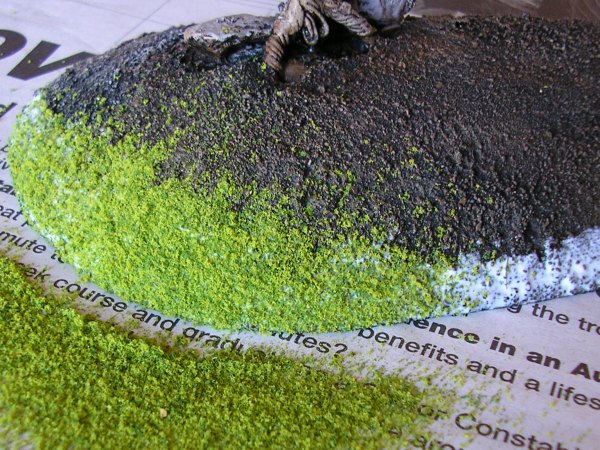 Glue on some small twigs to represent fallen tree trucks and spread on some 'leaf scatter' under the canopy of the trees and up against the rocks (as if they've been blown there). I used Antenociti's leaf scatter, which is an excellent product, but you can make your own using crushed autumn leaves (grape leaves are very good for this purpose) or even kitchen herbs.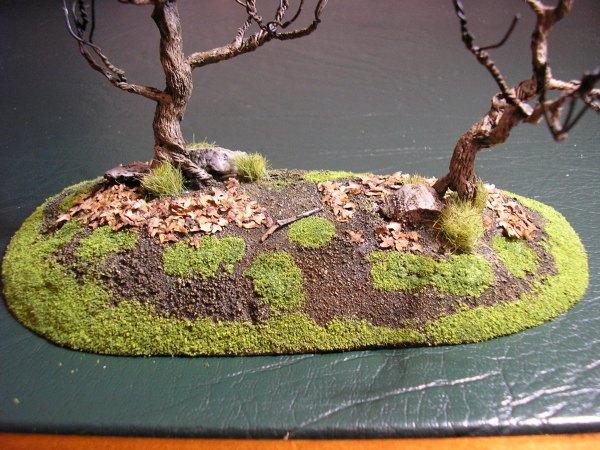 Step 8 - Adding a Canopy
Woodland Scenics do a range of foliage material that is ideal for our purposes. They call it 'foliage clusters' and it is basically large clumps of foam dyed to a consistent colour.
Dab the ends of the tree's branches with a small amount of PVA. Tear off small chunks of the foam and push it onto to the tree branch, poking the wire through the middle of the foliage. Repeat this until the whole tree is covered in clumps of foliage.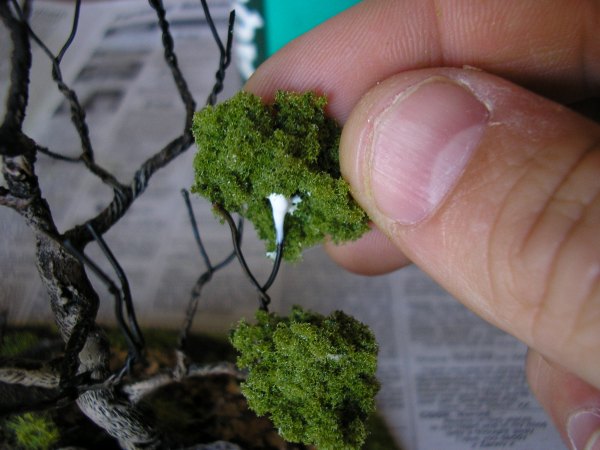 Once the glue has set, brush the tops of the foliage with a light wash of yellow ink and its finished.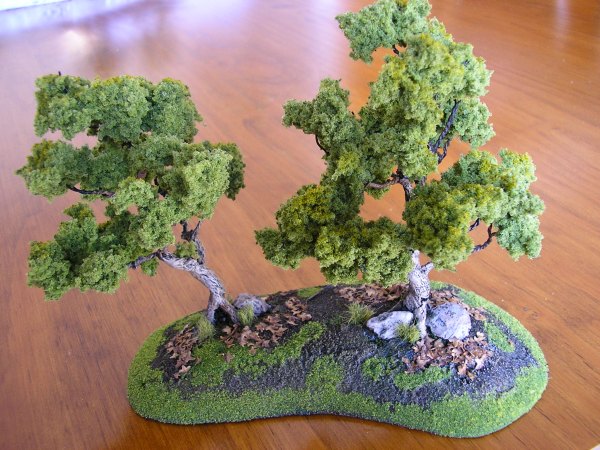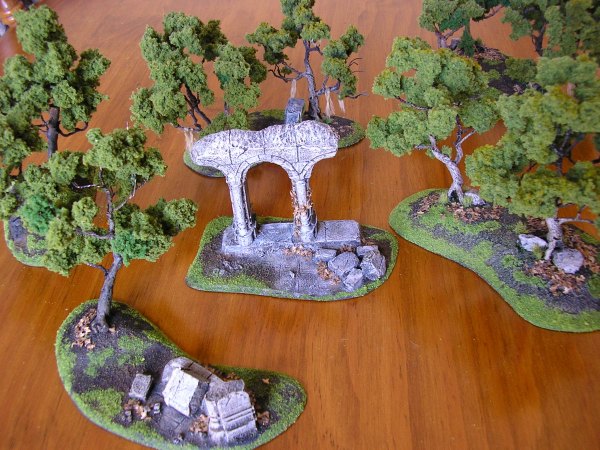 Product List
Antenociti Workshops
Leaf scatter:

Woodland Scenics
Foliage Clusters - light green. Product code: FC57
Flock - Fine turf green grass. - Product code: T45

Heki
Long static grass - Grasfaser wildgras dunkelgrün (Dark green wild grass). Product code: HK3369
Long static grass - Grasfaser wildgras weisengrün (Meadow grass). Product code: HK3368
Flock - Flocken fein hellgrün (fine flock light green) Product code: HK3384

_________________
Dags


Comments
There are no comments to this article.
Who is online
Registered users: aranel7773, belgiumfire, Bronf, cuchulain84, Dr Grant, Farmer Maggot, jmh_stirling, Kevin from Mitril, mordoryaza, MoriaMadness, rififivos