| | |
| --- | --- |
| | It is currently Tue Dec 10, 2013 3:10 am |
View unanswered posts | View active topics
Rocky bases
Article ID:
48

This article has been viewed 2583 times

Written by:
Viruk
Written on:
Sun Apr 12, 2009 9:38 pm
Article Description:
Using cork tray as a basing option

External link to this article:

http://www.one-ring.co.uk/kb.php?a=48
Materials Used:
PVA glue
Cork tray
Coarse Gravel
Sand
Static grass

Paints Used:
Chaos Black
Shadow Grey
Codex Grey
Space Wolves Grey
Skull White
Scorched Brown
Bestial Brown
Snakebite Leather
Bleached None
Introduction
Some players treat a miniature's base merely as a support to keep the model upright during the game. However, for me making the base is very important. Spending more time on finishing bases is a good idea as you can give more variety to your minis. You can also focus on one particular base that would separate a finished model from the crowd.
This article describes my way of making rocky bases. Cork tray makes for a very nice pseudo-realistic rock. It is also light and quite easy to work with. This tutorial will follow a series of pictures I took while painting some of my minis.
Step 1 - Preparing the Bases
Take the cork tray and tear some small pieces (do not use a knife because it may not give it the irregular shape). You should be able to buy this tray in any household goods shop. This is how it looks like: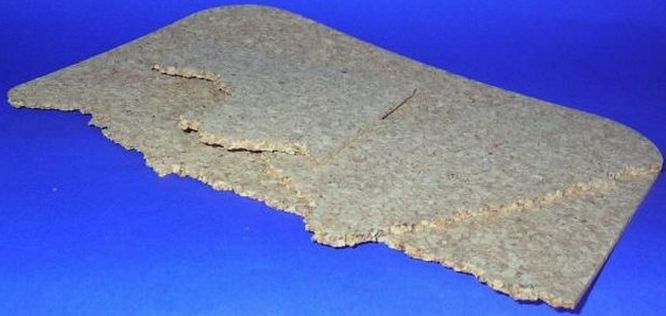 Once you have small, irregular pieces of the tray, glue them in layers to the base. This is a very important point because now you choose the way that the
rocks
will eventually look. So take some time to plan it carefully. You can also do it in a different way - glue the first piece of cork to the base and then glue another piece on the previous one. Then take a pair of tweezers and pull away pieces of the cork grain around the edges to get rid of the sharp flat edges in order to create a more
natural
rocky texture.

Now to add some stones and sand to the base, paint PVA glue over the rest of the base (make sure to give a thick layer of glue, otherwise the Gravel may fall off). I always try to lay the gravel close to the cork rocks and sand closer to the edge of the base.

Now leave it for some time so that everything will be dry before you proceed to step 2. You can paint everything with watered down glue, this will prevent the stones from falling off.
Step 2 - Painting the Bases
Start by giving everything a chaos black undercoat.

Once this is dry, give the rocks a heavy drybrush of Shadow Grey and Scorched Brown to the Gravel and Sand.

Now it's time for highlighting. To achieve this, drybrush a few layers of brighter colours.
Drybrush the rocks with codex grey and the rest with bestial brown.

This should be followed by a very light drybrush of space wolves grey to the rocks and snakebite leather to the ground cover.

The last drybrush to the rocks should be very light - just touching the egdes with Skull White to create the final highlight. For the ground use Bleached Bone. Think carefully about how you want the base to look like. I use this kind of bases for my Mordor warriors (which are painted in rather dark colours ) so I always give them quite heavy drybrush at this point. But do this to your own vision, if you want the ground to look a little bit darker, give it a very light drybrush.
Now glue the miniature to the base. To finish, glue some static grass. I usually choose two different colours - brown and green. Since I want the bases to look as if the warriors were in an old,desolated plain I glue more brown grass, with only a little bit of green.

And that's everything. To show the final results of this technique, here are some pictures of my Mordor warriors to whom I gave this kind of bases. As you see, sometimes even a small rock made of cork can give a miniature a new look. Good luck - and happy painting!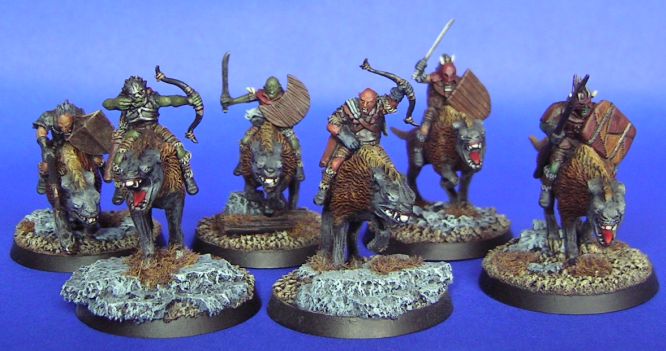 I hope you enjoyed reading this article. Feedback and questions are appreciated!

_________________
Independent Painters

| | | | |
| --- | --- | --- | --- |
| | Page 1 of 1 | [ 2 Comments ] | |
Author
Comments

Joined: Tue Jan 10, 2012 3:20 pm
Location: Athens, Greece
Top

Joined: Fri Jan 04, 2013 10:08 pm

this is great! thank you so much for your help!





Top
| | | | |
| --- | --- | --- | --- |
| | Page 1 of 1 | [ 2 Comments ] | |