| | |
| --- | --- |
| | It is currently Tue Dec 10, 2013 6:53 am |
View unanswered posts | View active topics
Basing Miniatures
Article ID:
38

This article has been viewed 9301 times

Written by:
DurinsBane
Written on:
Sun Apr 12, 2009 9:38 pm
Article Description:
How to effectively base your miniatures, from basic to advanced.

External link to this article:

http://www.one-ring.co.uk/kb.php?a=38
Introduction
This guide is aimed at members who struggle to build a decent base for their miniatures. This is by no way a definitive guide, however hopefully, it will be of help to some people.
I will attempt to cover the basic techniques for basing, however I will also try to show you how you can take that base just that little bit further.
Anyway, enough babble, lets get started.
Choosing a base
I guess the majority of members use the Games Workshop bases that the miniature comes with. This is not your only option. There are many different types of bases available.
Games Workshop & Dark Age are just 2 examples of bases that are readily available to the hobbyist, however as already mentioned, there are many others available by many different manufacturers.
Throughout the examples within this article, I will only be using Dark Age bases, however all examples will work just as well on a Games Workshop base.
Preparing the Base
Just as in preparing your miniature before painting, the base needs a little work as well. Flash plastic can be produced during the moulding process.
Remove this with a sharp modelling Knife.
The next step for me is to cover the sprue hole in the base. The reason for this is that I have no desire for the gaming side of the hobby and painting is my real passion. Because of this, I find it easier to cover the hole and once the base is finished, remove the sprue from the feet of the miniature and attach with Super Glue.
However, for the gamers out there, I would strongly suggest leaving the sprue intact, base-coating the miniature and attaching it to the base before proceeding any further.
So as mentioned, I normally cover the sprue hole in the base. This is simply done with a strip of Cellotape and then trimmed with a sharp Modelling Knife.
Choosing the Materials
There are literally thousands of materials out there that can be purchased for use within the hobby and basing.
As your interest in the hobby grows, you will find yourself acquiring more and more materials as the months pass. I would strongly advise that you acquire some sort of item to house your materials in. I personally use a standard toolbox with separate 'removable' compartments.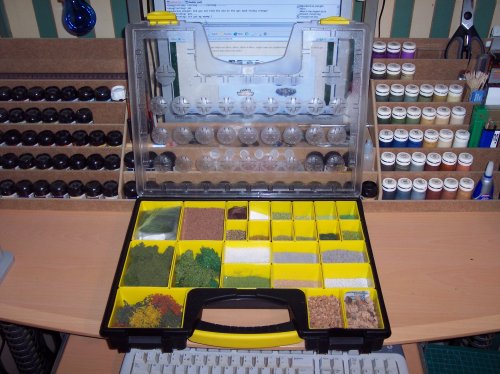 This box allows me to have everything I need to base a miniature in one area.
Within the box, I have a selection of common materials that are quite easily found throughout hobby stores. So lets have a look at some of the products we will be using in the guide.
So those are just some basic materials (don't worry if getting your hands on some of these products proves difficult or are simply too expensive, later I will be showing you how to get the same effect with every day household objects), lets start putting a base together.
Creating Basic Scenic Ground Cover
The first step is to cover the base with PVA. Again, there are many types of PVA available. I personally use a product that is far thicker than the normal Games Workshop glue, as I find this gives me more control, especially when trying to make a neat edge around the rim of the base. Also, a decent nozzle is required again to allow decent control over the flow of the glue.
Gently squeeze the glue over the base, starting with the outer rim and working your way inwards.
One of the things I found out within the hobby, was in the beginning, my base texture never looked the same as the Games Workshop ones on display in the shops or magazines. The reason for this is that the modellers for the magazines do not use the standard gravel that is available from Games Workshop. This gravel is too coarse. Recently I found a product called Fine Talus, and this in my honest opinion gives a much better and more realistic result for basic ground cover.
If you only have Coarse Gravel, just substitute the Fine Talus for this.
Place a piece of Paper Kitchen Towel on your work surface. Place the base on the Kitchen Towel and pour an ample amount of Talus/Gravel over the PVA. Quickly tip the base upside down to remove the excess, however quickly turn it back the right way up. This needs to be a quick action, as the glue will shift whilst performing this manoeuvre.
Once the manoeuvre is complete, lift the Kitchen Towel up and return the excess to its container.
The PVA will take quite a while to dry, don't be too eager to get it painted. Put the base to one side for 24 hours and leave to dry (remember, this is the basic step, therefore you can do as many bases as you require in one go, even do some in advance for future projects).
Once dry, place a small amount of Scorched Brown onto a pallet. Add twice as much water to the paint and mix well. Use a larger than normal brush and gently press onto the Talus/Gravel (Note: No need for brush strokes, the watered down mix will spread throughout the Talus, simply keep moving the brush to different areas). Once dry, drybrush the Talus with Snakebite Leather and leave to dry. Once dry, lastly Dry-Brush again with Bleached Bone (for this, make sure there is next to no paint left on the brush).
Adding Static Grass
Adding static grass is quite a simple process, however in my personal oppinion, most people use far too much on a singular base. For the best results, I have found very small numerous clumps to to be more appealing to the eye than one big clump.
Place your base onto a piece of paper kitchen towel. Using super glue, place some small spots of glue onto the base in the required areas. Select your static grass and place an ample amount over the glue. Press down firmly with your fingers.
Turn the base upside down, and tap the bottom of the base to release the excess grass. Quickly turn it back and begin to 'blow' all around the clumps (this will help the grass to stand upright)keep turning the base and blowing until you are happy with the result.
Return the excess grass to its container.
Leave the glue to thoroughly dry for 30 minutes. At this point, you may find that the Static Grass has clumped together. The grass will only be attached to where the glue was actually positioned, the clumping is caused by 'static'. Simply use a large brush and sweep the last of the excess grass off the base. You should now find that the ground cover shows through between each clump.
At this point, I normally use a lighter coloured static grass on top of the grass I just added, I find this gives a nice 'two-tone' effect.
Continue to add as much grass as you see fit or desire, just remember not to overdo it, leave some ground cover showing through.
Adding Terrain
The are many materials you can use for adding terrain, boulders, rocks, stones, ruins etc. For this exercise, we will be using bits of cork as boulders.
Before gluing anything down, I tend to select some pieces of cork and place them on the base to see exactly where I want them. Once happy, the cork is base-coated with Chaos Black, dry-brushed with Codex Grey and again with Fortress Grey.
Use some super glue to attach the boulders to the base.
Once everything has dried, use Fortress Grey again to paint some veins onto the Boulder and also to pick out the highest points.
You want the base to look as realistic as possible and therefore, some attention to detail is required around the base of the boulders.
For this exercise, you will have to substitue the materials for whatever you have handy (see later for details of how to make the following products for yourself).
Place some small spots of super glue around individual areas of the base of the boulder. Select some 'Foam Underbrush' (this is basically small bits of foam dyed green) and using a pair of tweezers, push the foam onto the glue.
For the next part, we are going to be using 'Long Grass'. This can be a messy and tricky product to work with.
If you buy Long Grass, keep it in the clumps it arrives in. Select a 'clump' and grab it with a pair of tweezers near the end. Unless your tweezers can grip very tightly, you will have problems manoeuvring the grass without losing grip, especially if you need to change hands. Therefore, I usually back this up by using a clamp to grip the tweezers.
Next, trim the end with a pair of sharp straight-edged scissors. Place some super glue around the boulder or where you want the Long Grass to be located and manoeuvre the Long Grass into position. Release the clamp, making sure you have a tight grip on the tweezers and push down into the glue.
Give the glue a chance to set, then simply trim the grass back to the required height with a small pair of scissors. Lastly, blow away the excess grass and remove individual bits with a pair of tweezers.
To finish off, I selected some parts from a 'Tree-Making Kit' by Woodland Scenics. This is a very nice product and although it can be expensive, one large box will last a long time (I have had this box for 3 years now and its still practically full).
Pull the pieces apart until you are left with some smaller clumps. Use a pair of clippers to cut away any unwanted parts. What we are aiming for here is to have the tree kit resembling small bushes.
Place some super glue on the required areas and using a pair of tweezers, place the bush into the glue.
So there we have it, a simple process for putting together a Basic Base.
Using the same process as above, heres a couple more that was also created. The 'Tree Stump' was created by moulding an old Games Workshop tree trunk.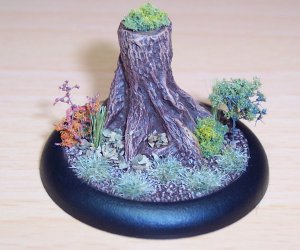 Building a Base from Household Objects
I can only give you a few examples for this part, again, the number of household products you can use in the hobby are simply unlimited.
For this part, I basically had a quick look around the house and garden to see what I could find.
First up were some particles of Rocks. These are from 'actual' Rocks and were broken into smaller pieces.
Play about a bit with different positions to see where and how the rocks will best fit. Once your happy, attach them to your base with PVA or Super Glue.
Next, lying in the garden was a dried up twig with some seeds attached.
(NOTE: anything you use that is organic, MUST be thoroughly dried out before using. If you use something organic that is damp, it will eventually grow mould and mildew).
One of the seeds was detached. A mix of Dark Angels Green and water was prepared and the seed was steeped in the mix.
Once the seed had dried thoroughly, it was dry-brushed with Camo Green.
Next, I found an old scrubbing brush in the bathroom that we no longer use. This was ideal for making some Long Grass. This can be substituted for old paintbrush bristles, toothbrush bristles, make-up brush etc.
The bristles were gripped with a clamp and cut along the base. These were then straightened up with a pair of sharp scissors.
Next up, an old spongue. A piece was simply pulled apart with the fingers and as with the seed, it was placed in a mix of a lighter shade of Green.
So, now to put all these objects together to produce our base.
As seen, the rocks were attached with PVA. Using some sand that was lying around, this was sprinkled over the remaining PVA and left to dry for a couple of hours.
Once dry, the rocks were basecoated with Chaos Black and the sand was basecoated with Scorched Brown and again left to dry for 30 minutes.
The rocks were then drybrushed with Codex Grey, Fortress Grey and Skull White. For each of these stages the brush was not cleaned.
The sand was drybrushed with Bestial Brown and then Bleached Bone.
The seed was cut in half and than attached with super glue. This was then dry-brushed with Camo Green again.
Super Glue was placed next to the seed and the long grass was attached and then trimmed once the glue had dried.
Static Grass was scattered in numerous areas and then a lighter shade of grass was used on top in certain areas.
The sponge was attached with Super Glue and then dry-brushed with Golden Yellow.
And thats about it, lets see how it came out and compare it to the bases made from bought materials.
Well, I honestly think it looks better than the bases with the bought products, but I will let you be the judge !
Keep looking around for what you can find and let your imagination take control, you never know, you might just surprise yourself !
Lastly on this part, an easy way to make cork boulders. Using an ordinary cork from a bottle of wine, snap the cork in two. Using a sharp modelling knife, start to cut and shape the cork to a shape that you are happy with.
Again, many different shapes can be formed, you are only limited by your imagination.
Okay, now for something very simple !
How to turn that Games Workshop base into something completely different with the minimum of effort.
Special thanks must go to Dave Lewis (Gondorian_Knight), as he gave me the idea for this, and also Alan Harrison (Dagorlad) for the technique.
Using a 40mm Games Workshop base, take a sharp modelling knife and a ruler, and start to 'score' lines through the base. Try to alternate between thick lines and thin lines.
Next, score lines vertically to the ones you just did, however, miss one line out from the vertical ones you just did every other line. Unfortunately, one of the down sides from doing this, if you use the sharp edge of the blade, the 'scored' lines will be raised and will need filing flat. When scribing plastic with a craft knife, use the blade upside down and score the plastic with the tip. This way, you don't "slice" the plastic and end up with ridges, you scrape the plastic away and it leaves no ridges. Use a sharp knife though.
All that remains is to dry-brush the 3 tones of colour previously discussed.
Getting More Advanced
Realistic Flagstones
We saw earlier how to make flagstones simply by 'scoring' lines into the base, however if you want that 'realistic man-made' feel to the base, a little more work is required.
Mix some 'Plaster of Paris' to the consistency of 'Pancake Mix'. Pour the Plaster of Paris over the base and use a 'straight' edged item to level the Plaster of Paris flat and leave to dry thoroughly.
Using a ruler and a sharp modelling knife, gently start to score your pattern into the plaster, doing the horizontal lines first. Next, turn the base 90 degrees and score the vertical lines.
Once you are happy with the pattern, choose your 3 colour scheme and drybrush the entire base, jut ensure you use Chaos Black as an undercoat.
Just to point out, the 'cracks' on the last picture below, were actually done with 'Paint Shop Pro', I usually score cracks into my paved bases, but forgot to on this occasion. Add the cracks, it makes it more realistic!
Lava Bases
To start off with, lava bases need a textured surface, flat surfaces just wont do.
I use Polyfilla (wall filler) to get a textured surface. Spread some Polyfilla over your base. Add more than you need to cover the surface of the base, and aim to build it up high. Next, if you are wanting to add and stones or terrain, do it now. Now using a modelling tool or similar, gently prod into the Polyfilla to achieve a better texture.
Let the Polyfilla harden over night. Once thoroughly dry, basecoat the entire base with Skull White.
Next, heavy drybrush with Golden Yellow. After this, a lighter drybrush with Blood Red. Next a light drybrush with Scorched Brown and finally with Chaos Black.
Lastly, once the whole thing is dry, use a clean brush and give all lava areas a straight Yellow Ink wash.
Bases with Water
There are a few ways you can achieve a 'Water Effect' on your bases. The simplest is to simply 'paint' the water onto the base. Another is to use 'PVA' glue over painted water to give it that 'wet look'.
For this example, I will be using a product from Woodland Scenics' called 'EZ Water'.
Firstly, select your base and paint it mixing Enchanted Blue & Ice Blue directly onto the base. Leaving no time to dry, 'stipple' Regal Blue in the centre and finish off with 'stippling' Skull White all over the base. Once this is complete, leave it all to dry and attach any terrain that you will be using.
Next, adding the water effect. EZ Water by Woodland Scenics comes in small pellets. Basically, you place an amount of pellets into a metal dish and heat them until they form a liquid. This 'red hot' liquid is then poured into the desired area. The product is actually designed for doing larger areas, and therefore working it onto a base can be tricky at times.
A rock was attached to the base and drybrushed in 3 shades of grey. The EZ Water was heated in a metal container over an electric cooker. Once all the pellets had melted, it was quiclky poured onto the base and left to set (setting time is around 15 minutes to cool down).
After everything had cooled, another rock was attached on top of the previous one, and drybrushed with the same colours previously used.
To finish off, terrain materials were attached in random places.
Moulding Items For Repeated Use
Some items that you have, you may want to try and produce a mould so you can reproduce them time and time again, ruins is a good example.
Again, there will be thousands of products out there that can be used for moulding, however the product I have found to work best is called 'Silly Gum'. Silly Gum works in exactly the same way as Green Stuff (2 part), but does not have the 'stickiness' and once fully cured, it turns into a flexible rubber.
I chose a set of ruins that I wanted to mould. The Silly Gum was prepared by mixing the the 2 parts together by quickly 'kneading' it through my fingers.
Once it had blended into one colour, the Silly Gum was quickly applied over the ruins, making sure it was pushed firmly into all the crevices. This process has to be quick, as Silly Gum starts to cure as soon as it is blended, you have about 5-6 minutes to work with.

Author's Note:
Casting of copyrighted material is illegal and is not condoned or encouraged by this website. The author does not intend any challenge to Grendel's intellectual property.
Once the mould had cured, it was cut with a sharp modelling knife down one side to release the resin ruin. More Silly Gum was used to cover the hole at the top of the mould, and once this had cured the mould was filled with Plaster of Paris and left to set for an hour.
Once everything had dried, the Plaster cast was removed and all that remained was to clean it up and then it was left to thoroughly dry overnight.
To finish this example, the moulded ruins were broken down and shaped using a small pair of pliers. Once completed, the ruins were attached, sprayed with black primer and the whole base was drybrushed with 3 shades of grey and a light drybrush of Skull White to finish off. The base rim was then recoated with Chaos Black.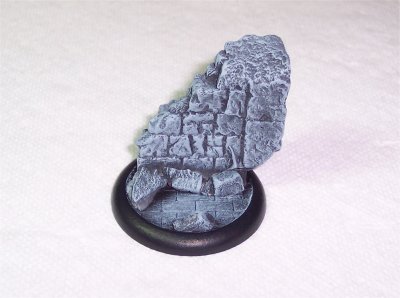 And that just about wraps things up ! Creating different bases can be a lot of fun and ultimately it will present your miniatures in a more professional way.

_________________
There are fouler things than Orcs in the deep places of the world

| | | | |
| --- | --- | --- | --- |
| | Page 1 of 1 | [ 1 Comments ] | |
Author
Comments

Joined: Sun Jun 09, 2013 10:05 am

Simple but lovely stuff

VG


_________________
"Dark have been my dreams of late."



Top
| | | | |
| --- | --- | --- | --- |
| | Page 1 of 1 | [ 1 Comments ] | |