| | |
| --- | --- |
| | It is currently Tue Dec 10, 2013 6:53 am |
View unanswered posts | View active topics
Men of Rohan
Article ID:
26

This article has been viewed 1252 times

Written by:
valpas
Written on:
Mon Apr 13, 2009 2:21 am
Article Description:
A guide to painting the stalwart fighters of the lands of Rohan

External link to this article:

http://www.one-ring.co.uk/kb.php?a=26
Paints used
Chainmail
Black Ink
Mithril Silver
Scorched Brown
Bestial Brown
Dark Angels Green
Snot Green
Vermin Brown
Dark Flesh
Dwarf Flesh
Elf Flesh
Brown Ink
Snakebite Leather
Bubonic Brown
Shining Gold
Codex Grey
Fortress Grey
Bleached Bone
Colours for horses
Introduction
A Riders of Rohan painting guide exists already on the Games Workshop website, but this guide is intended to be more specific on certain parts than theirs. Additionally, I like to work through one part of a model at a time to better support adding lighter tones to the colour mixes. Parts can be done in any order, but I suggest starting the rider from the armour since inks and drybrushing may spoil already painted areas. I also like to work from lower parts to higher to prevent oopsies from happening so often. This guide can be used for rather quick painting as it is (for me roughly an hour for each rider/warrior or horse painted four at a session) but you can add more highlight layers for smoother transitions between colours for display pieces or better quality.

Horse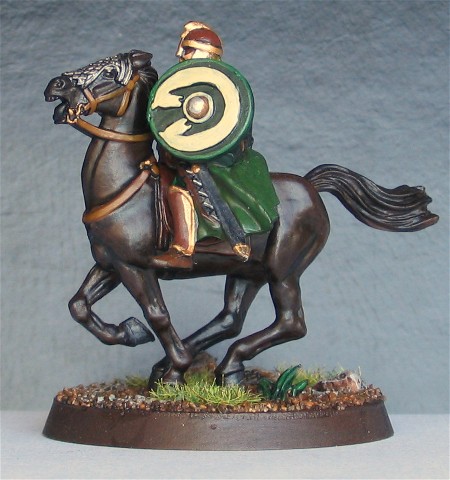 Basecoat the horse with an
appropriate colour
, possibly give it a wash of ink and highlight it with
yet more appropriate colours
. Quite vague instructions, huh? Well, the colours of the horses vary a lot while the riders have more or less similar outfits. Some colour schemes you might want to use are (note that all inks should be thinned):
Bestial Brown - Vermin Brown - Snakebite Leather (the GW guide).
Scorched Brown - Black Ink - Scorched Brown for very dark brown horses. Substitute Codex Grey for dark grey horses. You may also leave it as it is after the ink wash as in the picture above.
Chaos Black - Scorched Brown - Bestial Brown for dark brown horses.
Chaos Black - Scorched Brown - Dark Flesh for dark reddish brown horses. See picture below.
Scorched Brown - Dark Flesh - Vermin Brown for brown horses.
Scorched Brown - Bestial Brown - Snakebite Leather also makes brown horses.
Bubonic Brown - Bleached Bone - Bleached Bone/Skull White mix for light brown horses.
Fortress Grey highlighted with successive layers of Skull White mixed in; for whitish horses.
Ghostly Grey gives a bit of a blue tint compared to Fortress Grey.
Chaos Black with a light drybrush of Codex Grey for a black horse. See the tail picture in the next section for an example.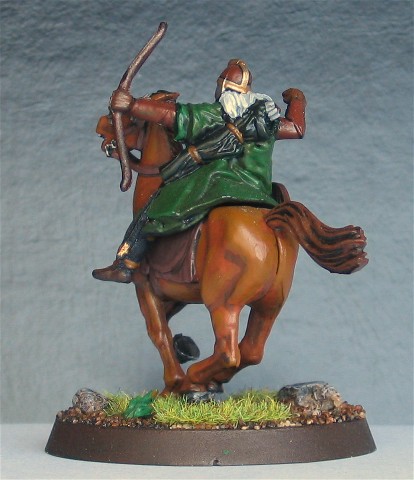 Tail and Mane
Many different colour combinations can be used here. Try for example:

Any lighter brown with Brown or Chestnut Ink wash, perhaps with a highlight of some lighter brown.
Drybrush with Codex Grey, very light drybrush with Fortress Grey. See picture below for an example.
Basecoat with Scorched Brown, highlight with Bestial Brown.

Well, you get the idea.
Leather parts of the saddle
| | |
| --- | --- |
| | Paint the leather parts of the saddle Scorched Brown. Highlight with successive layers of Bleached Bone mixed into Scorched Brown. |
Armour and metal parts of weapons
| | |
| --- | --- |
| | Paint the armour and weapons with Chainmail. Next, give them a wash with thinned Black Ink. When the ink is thoroughly dry, drybrush or highlight the armour and weapons with Chainmail. A further light drybrush or highlight of Mithril Silver can be applied if you want shinier armour. Use the same technique with the horse's chamfron (head armour). |
Weapons and saddle
| | |
| --- | --- |
| | Paint the wooden parts of the weapons and the saddle with Dark Flesh. Then give them a wash with thinned Brown Ink to get a polished effect. |
Scabbard and sword handle, hooves
| | |
| --- | --- |
| | Very lightly drybrush the scabbard and sword handle with Codex Grey. While you are at it, do the same for the horse's hooves. |
Trousers and under-tunic
Basecoat the trousers and tunic with Dark Angels Green and highlight with Snot Green added to Dark Angels Green. Another option is to use Scorched Brown for basecoat and highlight with Dark Flesh added to it. The riders and warriors have somewhat different outfits, but you should generally paint the lowest piece of clothing green and the next one brown to alternate between the colours, since the cloak will be green if you follow this guide to the letter.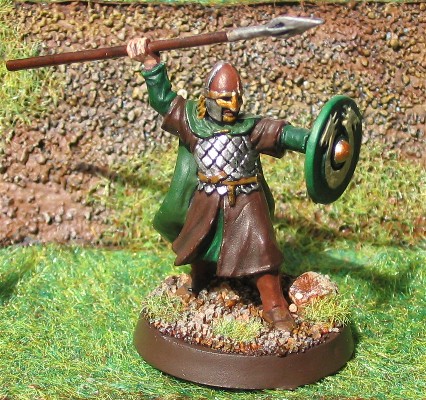 Sash and quiver
| | |
| --- | --- |
| | Paint the sash and quiver with Dark Angels Green. Give them a wash with thinned down Black Ink. |
Face and hands
Basecoat the face and hands (if anything is visible) with Dark Flesh. Highlight with Dwarf Flesh and follow with Elf Flesh. Since the riders' helmets usually show only a little of the face, mixing colours is not necessary in most cases. However, if the rider has an open helmet, you may want to mix flesh colours for smoother highlighting.

Paint the lower lip with Dark Flesh and teeth with Bleached Bone. Paint the horse's teeth also with Bleached Bone.
Boots and gloves
| | |
| --- | --- |
| | Paint the boots and gloves with Scorched Brown. Mix in some Bestial Brown and drybrush across the raised surfaces as highlights. |
Cloak
| | |
| --- | --- |
| | Basecoat the cloak with a mix of Dark Angels Green and Vermin Brown. Add some Bleached Bone for each successive highlight layer until you are satisfied with the colour. |
Vambraces, greaves, helm and leather armour
Paint the vambraces and greaves and the leather parts of the helmet with Dark Flesh. Add Vermin Brown to Dark Flesh for each highlight layer.

Some riders have leather plates over their metal armour. Paint those like the greaves.
Straps and belts
Paint all the straps (greaves, quiver straps, reins) and belts Bestial Brown and highlight the edges with Snakebite Leather. See picture of the horse's head above.
Metal parts of the helm and random decorations
Paint the metal parts of the helm with Chainmail. Make a mix of Shining Gold and a wee bit of Mithril Silver and paint any decorations you may want on the helm with that.

Also paint the centre part of the shield with the mix. Highlight the shield centre with Mithril Silver.
Add golden decorations to the edges of the leg greaves with gold/silver mix. Also add that to the end of the scabbard and the sword stopper and pommel. Paint the belt buckles and metal parts of the horse's reins with Mithril Silver or the gold/silver mix.
Hair and beard
Paint the hair and beard with Bubonic Brown and highlight with a mix of Bleached Bone and Bubonic Brown. Another option is Snakebite Leather/Bubonic Brown (see picture above for an example) and yet another Fortress Grey/Skull White for elderly warriors (see picture above for an example). The rohirrim should have quite light colours on their hair and beard.
Arrow fletchings
Paint the feathers (if visible) Codex Grey and highlight the edges with Fortress Grey.
Shield
Paint the shield Dark Angels Green and highlight the edges with Snot Green. Make sure to paint also inbetween the decorations. Paint the decorations with Bleached Bone. You may need several coats of Bleached Bone to fully cover the emblems.

For variation, paint some of the shields with a mixture of Dark Flesh and Scorched Brown and highlight the edges with Dark Flesh.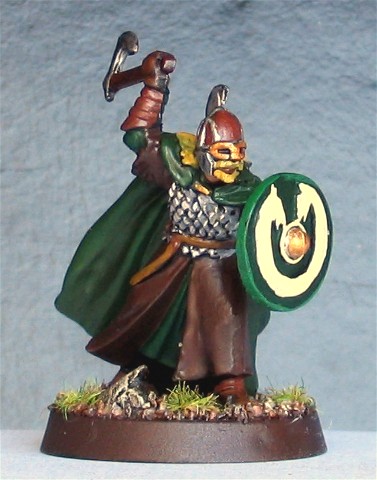 Now the riders and warriors are ready for basing and charging Uruk-hai!

_________________
http://pasiminis.blogspot.com/


Comments
There are no comments to this article.