| | |
| --- | --- |
| | It is currently Fri Dec 13, 2013 8:36 am |
View unanswered posts | View active topics
The rise of the NINE
Article ID:
221

This article has been viewed 694 times

Written by:
Raggbur
Written on:
Mon Aug 09, 2010 6:26 pm
Article Description:
The Undying's evil practices discovered

External link to this article:

http://www.one-ring.co.uk/kb.php?a=221
The Rise of the NINE: Evil Dungeons
Discription
The Undying. One of the toughest kings of men, the last one who became a servant of Sauron. But it was not the craving for power, not the wisperings of his ring that forced him to that. No, it was his love for a kind of art, a forbidden art: dark magic. Already long before the Undying was a servant of the Dark Lord, he was bussy with his 'hobby', deep in the dungeons of his castle. Years past, and his evil practices remain hidden, until the castle welcomed a new guest: Angleon, a strange Ranger of the North. But no one knew that Angleon was an ally of the White Council, sent to discover the mysteries that took place in those regions. By accident, Angleon succeeded in that task. Because, when searching in the dungeons, he saw the Undying, busy with a dark and evil ritual. Angleon shouted for help, and entered the room...
Forces
Good
Angleon, Ranger of the North
Captain of the Guard
Hornast, Son of the Lord on Horse
Evil
The Undying
6 Evil Creations
Layout
The battle takes place in a small room in the dungeons; it's empty besides of a small tomb or altar.
There's a small (1,5"/4cm) doorway, the reinforcements will arrive here.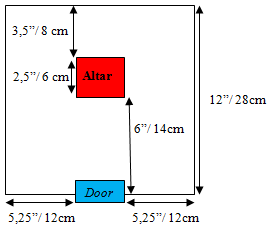 Starting Positions
The Undying
starts on the altar and
Angleon
in the doorway, all other models are kept aside as reinforcements.
Objective
Good: Kill the Undying, before more are the target of his dark spells!
Evil: The Undying just needs the blood of a servant to complete his ritual. When an evil creature is able to stand in contact with the Undying for a whole turn without he or his master charged, evil claims victory!
Special Rules
The Altar
The Undying is in trance and not aware of the fights around him. But on the moment he will sense the arrive of his son, he will lose his concentration and have no other chose than to join the fight. Until then he may not charges, move or use magic. Anyone who charges the Undying when he is in trance, must retreat and automaticly recieves a pure energy hit of Force 7.
Nasty Beings and Brave Heroes
On the end of every evil movement phase, 1 evil creation enters play through the doorway, except when the entrance is blocked by another model.
But Angleorn doesn't stand alone! At the end of every turn , the good player may roll 2D6; when the result is lower or equal to the turn number, the good reinforcement will arrive at the beginning of the next good movement phase (they automatically arrive on the 8th turn). Anyone who's standing in the doorway on their moment of arrive, is thrown on the ground and receives a F3 hit.
Well Prepared
Angleon has been trained for this mission for years, he knows exactly what to do and what's waiting for him in the dark room. To represent this, Angleon doesn't have to take courage test to charge the evil creations and when shooting with his bow, he wounds them on a 2+.
Angleon also sees The Undying as a well known enemy and not as a beloved king, so he doesn't have to take courage test for charging the evil lord.
An unexpected arrive
Good has priority the first turn
Profiles
Hornast
80pt
F S D A W C M W FT
5/4+ 4 6 2 2 4 3 1 1
Wargear: Royal (heavy) armour, sword and horse
Special Rules: Expert Rider; Royal Horn (--> Horn of Boromir)
Captain of the Guard
60pt
F S D A W C M W FT
5/4+ 4 8 2 2 4 2 1 1
Wargear: Heavy armour, sword and shield
Evil Creation
10pt
F S D A W C
3/5+ 3 5 1 1 5
Wargear: Sword, Axe, Claws (hand weapon) and: Shield / Two-handed weapon / Orc bow
Special Rules: Terror
Extra Tips
1) Use a Imrahil or any other well-armoured mounted hero to represent Hornast. Any well-armoured captain model can represent a captain of the guard.
2) To represent the evil creations, you could use Warhammer-,Reaper miniatures, The Army of the Dead, Spectres, your own conversions (these would look awesome) or just orcs (at last, they're evil creations).
3) Bear in mind that when using the profiles above, some optional wargear is already given. This is important when you're playing point-matches. So, Hornast without extra equipment (horse and royal armour) is 65pt (he's always wearing normal armour) and an evil creation 9pt. Note: a guards captain doesn't have optional wargear.
Part of a Campaign ?
Good (SBG):
the Undying may not take part in the following scenarios, replace him by an ordinary Nazgûl (70pts).
Good (combination with WoTR):
You may add 2 Royal Guard companies to your force (Use them as the Rohan ones)
Evil (SBG):
Every time you use the Undying in the following scenarios, you may add 5 evil creations (without wargear) to your force with the extra special rule: Bodyguard
Evil (combination with WoTR):
You may add 3 Evil Creations companies to your force (Use them as Angmar Spirits)
Some Extra Words
If the one-ring was a region in middle earth, and I was Sauron, I would have concentrated myself more on conquering it, then in trying to find the object the name represents!
Raggbur

_________________
We must forgive our enemies...
But not before they are hanged

| | | | |
| --- | --- | --- | --- |
| | Page 1 of 1 | [ 2 Comments ] | |
Author
Comments

Joined: Thu Jun 23, 2011 3:04 pm
Location: Lording over the Crossing

That looks fun to do

Do you happen to have scenarios for the rise of any of the other wraiths?


_________________
"I am the Flying Spagetti Monster. Thou shall have no other monsters before me"
-FSM.



Top

Joined: Fri May 21, 2010 2:37 pm
Location: Before the gates of another fortress, telling those maggots that they have to form ranks!

I think I might still have the notes for 3 other.. I tried uploading them ones, but they where gone (just before the hacking attack period).


_________________
We must forgive our enemies...
But not before they are hanged



Top
| | | | |
| --- | --- | --- | --- |
| | Page 1 of 1 | [ 2 Comments ] | |
Rate this article
Related Articles

This article is currently rated at 3
0 votes have been cast.