| | |
| --- | --- |
| | It is currently Thu Dec 12, 2013 1:49 am |
View unanswered posts | View active topics
Painting Faces
Article ID:
182

This article has been viewed 3236 times

Written by:
tidoco
Written on:
Tue Apr 14, 2009 2:20 pm
Article Description:
My take on face painting Lotr miniatures

External link to this article:

http://www.one-ring.co.uk/kb.php?a=182
Painting Faces (Celeborn)
Materials Used
Elf Flesh
Dwarf Flesh
Dark Flesh
Skull White
Chaos Black
Black Ink
It's All In The Shading
Just a quick 'un from me this time, a brief article on how I paint my faces. The model in question is Celeborn which to be honest is not the best mini to feature as the sculpt is very soft. Being Elven he should have a light complexion but at this scale that gives us a problem as to keep it that way means that when finished the face will look quite flat so as with all my faces I deepen the colour just a bit more.
As the title says it literally is all in the shading but equally a a good foundation is needed to. I have covered preparing and undercoating in many other articles so we will be starting after those stages are complete. Firstly I have base coated the mini with Elf Flesh, I needed to do this two to three times to cover the primer solidly.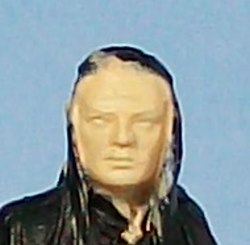 Then I apply a wash of Dwarf Flesh, what this does is set some definition to the face showing areas that are to be shadowed and highlighted.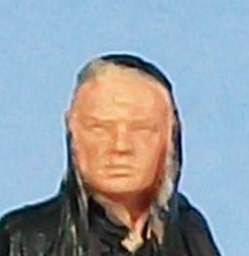 Now we start to deepen the shadows, this is done gradually by adding small amounts of Dark Flesh and working deeper into the shadowed areas.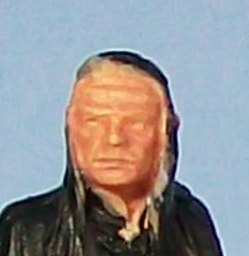 Shadows are darkened further by adding still more Dark Flesh to the Dwarf Flesh.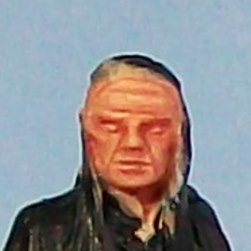 This is a good point to add the eyes. Eyes make or break a face so if you are not confident there is nothing wrong with just painting a dark slit between the eyelids, however if you are up to it then paint a black line in between the eyelids.
Next paint an even thinner line over the black trying to leave a little black showing, (Just like I didn't lol).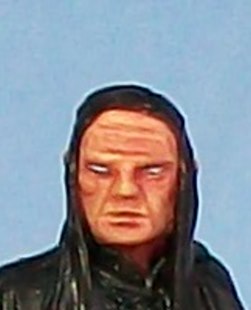 The pupils are now dotted in with a very fine brush. Chaos Black is my first choice for this but if that doesn't work as it didn't for me then try using black ink very carefully. Celeborn has snake eyes at this point which I fixed after this image was taken. The reason for doing the eyes at this stage is that it is much easier to fix any mistakes now rather than leaving the eyes until the end when your face is all nicely finished and then splodging black paint where you don't want it and ruining your hard work.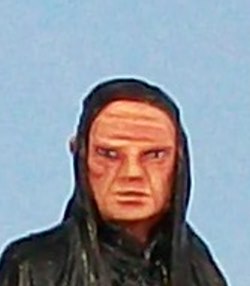 Now Highlight To Taste
Now the easy bit, simply highlight the face up, starting with a mix of 60/ 40 Dwarf Flesh to Elf Flesh and keep going until you are using just pure Elf Flesh sparingly. And that is really all there is to it.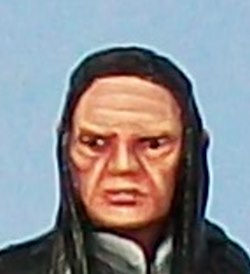 I hope that this shorter than usual article from me has been informative and that it may benefit you all in some way in the future.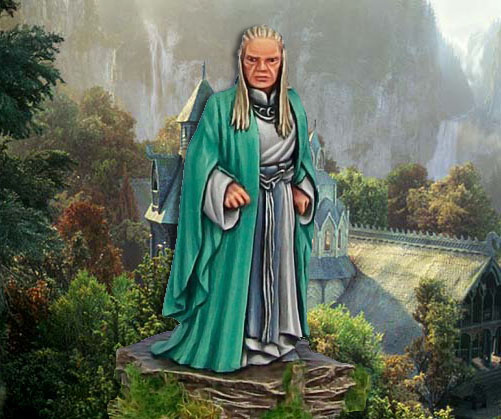 | | | | |
| --- | --- | --- | --- |
| | Page 1 of 1 | [ 2 Comments ] | |
Author
Comments

Wayfarer


Joined: Sat Aug 20, 2011 10:23 pm

Thank you for painting this, it will really help me on the 24 Galadhrim Warriors faces I need to paint. The thing is, it looks so easy when on the screen until you turn around and see just how small your models faces actually are!
Thanks for the help!

Kel xxx





Top

Joined: Fri Jan 04, 2008 1:19 am
Location: New Zealand

Do you paint lips?

Do you use this for all your minis or do you short cut on your rank and file soldiers?


Thanks for the article. I really liked it.Great use of macro photography.


_________________
Ninth Ruling Steward of Gondor. Dior was born in 2328. He was the son of the Steward Barahir



Top
| | | | |
| --- | --- | --- | --- |
| | Page 1 of 1 | [ 2 Comments ] | |
Rate this article
Related Articles

This article is currently rated at 5
1 vote has been cast.

No related articles have been found.