| | |
| --- | --- |
| | It is currently Thu Dec 05, 2013 9:26 pm |
View unanswered posts | View active topics
An interview with ukfreddybear
Article ID:
142

This article has been viewed 1804 times

Written by:
Viruk
Written on:
Sun Apr 12, 2009 9:16 pm
Article Description:
An interview with one of the best Sculptors

External link to this article:

http://www.one-ring.co.uk/kb.php?a=142
Many of us know UKFB as a very useful contributor to the LOTR-devoted online communities, a great sculptor and excellent painter, an active fireman or simply as a friendly person who enjoys taking part in discussions related to our favourite hobby. Like many of you, I wanted to learn more about this very interesting person; how long has he been painting, where does he get his inspiration from, does he really sculpt minis at work or which mini is his favourite. I received answers to these, and many other questions in the following interview.
Viruk: I'd like to begin by asking when did you start sculpting.UKFB:
Well, I did some clay figure sculpting as part of my GCSE Art exam way back in 1989. Part of that involved doing a detailed study of human anatomy and movement. I think that even though it was so long ago, the study has helped me out now because I still have the knowledge somewhere inside my head. After leaving school though, I didn't really do any sculpting again until I got into the world of table top gaming. That was in 2003. At the time, GW didn't have a very big range of LOTR minis, so I started converting some of their existing ones to create more variation and new characters for my own collection. That was the first time I used green stuff. From there, the conversions got a bit more complex until eventually I found myself creating models from scratch over wire armatures.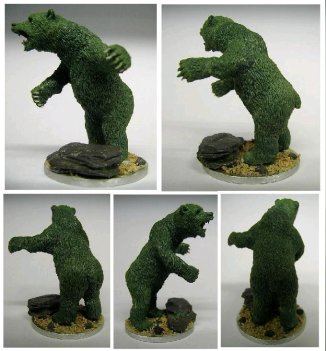 One big angry bear
Sculpting is not your main occupation, could you tell us something about your job?
Well up until a couple of years ago I was in the manufacturing industry as a sheet metal worker. Unfortunately, that industry is fading in the UK as more and more companies are choosing to relocate in Europe and Asia where the wage bills are a lot lower. With the constant threat of redundancy hanging over my head, and a home and family to look out for, I began to think of alternative careers. I had a friend and former colleague who had joined the fire service recommend how rewarding a career it is, and he talked me into trying out. 15 years of playing American Football had kept me in fairly good shape physically. I've been a firefighter now since January 2006 and it is one of the best things I have done in my life. Every day is an adventure because you never know what you're going to be turned out to next. It could be a cat trapped in a wall cavity, someone stuck in a lift, cutting someone out of a car wreck, pumping out flooded areas, lowering someone out of a crane, pulling someone out of a blazing house are just some jobs to name but a few. It's also fun just training. Where else do you get paid to run up and down ladders squirting water about, and cutting up scrap cars with cool giant cutting equipment? Another perk is that we get paid to workout in our firehouse gym, whereas for most people they have to pay to use a gym! The watch is like a big family and we socialise together regularly too which is great.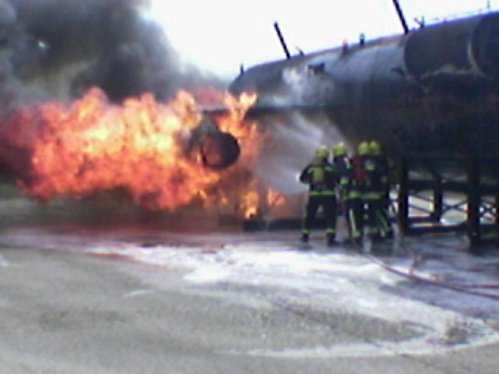 This is how a durability of UKFB's minis is checked
How do you manage to combine sculpting with this kind of work, when do you find time for your hobby?
I'm on a rolling shift pattern at the firehouse. I work 2 days, followed by 2 nights and then have 4 days off before it begins again. It is a great system because if I book a tour off using 4 days of my holiday entitlement, I actually get 12 consecutive days off because of the 4 off I have before and after the holiday. All in all I work about 150 days a year which gives me a lot more free time.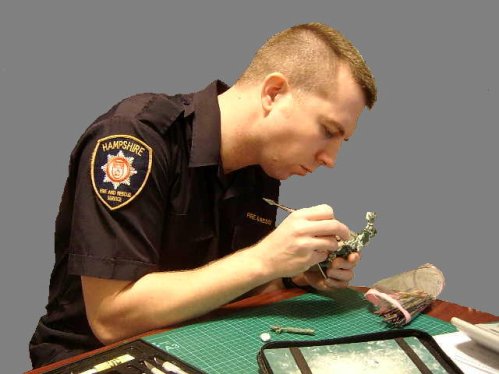 Sculpting at work is possible
I usually sculpt at home in the evenings if my wife is working once my two children are in bed. I have sculpted simple stuff at the firehouse during stand down periods, but it isn't that often because I wouldn't want a sculpt ruined as a result of having to leave it for a fire call! Gaming there is fine though, because we can just pick up where we left off when we get back.
How do your friends and your family react to your hobby ?
My family is very supportive. My wife helps me out with the quality control and packaging of the casts. She also undercoats my minis for painting if I ask her nicely. I recall her saying a few years ago that I had a talent for sculpting and that I should pursue it. At that time though I was working 6 days a week in my old job and simply did not have the spare time that I do now. Other relatives always like to see what I'm working on next when they come round to visit! Some of the guys at the firehouse like to mock a little that I play with little toy soldiers, but I'm fortunate that there is another firefighter there who is also into wargaming. Seriously though, they are generally impressed when I show them what I've done with a little bit of putty and there is always a little crowd if me and the other guy have a battle on the mess table!
Do you use drawing in the process of creating your sculptures?
Sometimes yes, sometimes no. I tend to rely more on photographic material for inspiration. The Majestic Bear model was sculpted without a drawing as I just used photos of real bears for reference. For human characters I normally photograph myself in the pose I want to keep proportions correct, and then use that to create a piece of concept art by changing the clothes, hair etc.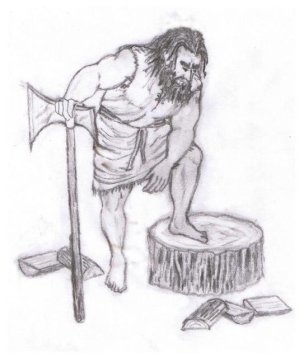 Tell us something about the tools that you use.
I started out with just a couple of steel sculpting tools that I bought from Ebob Miniatures, along with a couple of home made pick tools that I made myself from needle points. I was lucky enough to acquire a load more sculpting tools as a prize for winning the open sculpting competition at the One-Ring fan-site. I do have a few favourites, and there are some that I haven't even figured out a use for yet! My most used tools would have to be the pair of silicone clay shapers I also bought from Ebob. They help blend things in and are essential for smooth flat areas. I couldn't do without them now.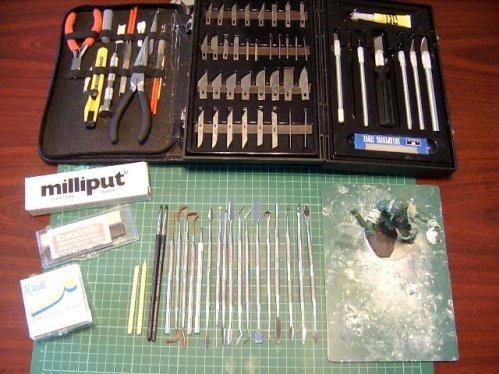 Have a look at all of these tools and think about what the poor giant had to go through before he could finally stand on his own in his full glory
What do you find most challenging when it comes to sculpting with Green Stuff and other similar products?
Probably the short curing time. Because most of my sculpts are quite large, I find it a bit of a race against time to get the details in before the putty becomes too stiff to work. I'm sure you'll appreciate that it takes a lot longer to sculpt an arm that is 80mm long than one that is 10mm.
It's all too easy to get carried away sculpting something, and if you're not careful, you can end up squashing a piece that you previously had looking great. I'm a lot more self disciplined now as I've learned when to stop work temporarily on a sculpt to let it set hard before continuing.
Have you got your favourite miniature sculptors ?
When I first started collecting miniatures from Games Workshop's Lord of the Rings range, I was really impressed with the work from the Perry Brothers. Robert Soutar (aka Ebob) has a lot to answer for as it was his excellent sculpting tutorials that encouraged me to try sculpting properly and I believe his Scottish Rebellion range is second to none for that period of history. Felix Paniagua is a former GW sculptor and his own 'Avatars of War' models are very nice indeed. But if you pinned me down to just one name then it would have to be Tom Meier of Thunder Mountain. His models capture a sense of realism that I can only aspire to.
What inspires you to sculpt and how do you keep motivated when you work on a new project?
I try to sculpt things that I haven't seen out on the market, but if it turns out that there are similar models available elsewhere then I try to put my own creative spin on them to provide a viable alternative. Starting a project is the easy part. It's finishing it off that is the problem. I'm easily distracted, so sometimes the sculpting takes a back seat to work or family commitments. I'm also a gamer myself remember, and squeezing time in to paint models and play games is also partly to blame for delays between sculpting sessions. When I start getting prompts like 'how's that model shaping up' from online forums, then that's usually a sign that I should get back to work on it! I purposely don't set myself deadlines so as to avoid feeling like I'm forcing myself to get the sculpts done. Not only would it take the fun out of sculpting, but I believe the quality would also suffer if I were rushing things through.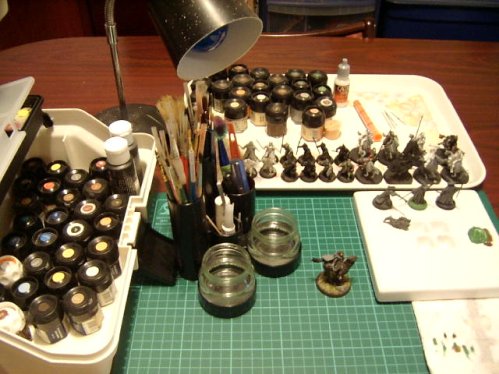 A well-organised workplace helps a lot
In Poland we could observe a revival of interest in Tolkien's works after Peter Jackson's movies. They have certainly encouraged many people to explore the world of Middle Earth. When did you first discover Tolkien's books?
I was never really a big novel reader. I had the Lord of the Rings given to me as a present about 15 years ago, but it was so thick that I was put off of reading it. After watching The Fellowship of the Ring movie at the cinema I was absolutely blown away in such a way that can only be equalled by the first time I watched the original Star Wars movie many years ago. I went straight home and read The Fellowship of the Ring. Because I like being surprised at the movies, I did it that way around for the following two chapters, reading the book after watching the movie, picking out the differences.
Speaking about the Trilogy, how many times have you read "The Lord of the Rings"?
Only Twice. Once as I mentioned above, over a three year period following each movie release, and then I read them all consecutively about 2 years ago. I have also read the Hobbit 3 times, Unfinished Tales and Silmarillion once each, but I haven't had the chance to read the Children of Huron yet.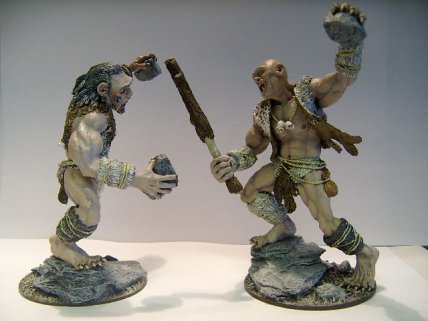 Mountain Giants ready to hurl down boulder onto those who dare to approach their realm
Do you read works of other fantasy writers?
Not really. I did read about the first 20 novels of the Star Wars Expanded Universe before giving up on them when I became Tolkienised. I'm fortunate that my wife's brother is a heavy fantasy novel reader and quite often he will suggest that I read certain chapters of books because the Character/ Monster involved has a cool sounding description that might make a good model someday.
What other interests have you got outside of sculpture?
I played American Football at an amateur level here in Britain for about 15 years. I was a sure-handed speedy Wide Receiver in my day and a won a championship ring in 1998 with the Southern Sundevils. I retired in 2003 as my young family commanded more of my time. I still follow the sport both here and in the NFL, and my favourite team there is the Chicago Bears. My family say I spend far too much time on the computer, because I like to check my emails daily, and usually end up browsing various forum boards and websites for much longer than I really need to. I'm also a big film buff and enjoy going to the cinema or watching one of my 500 DVDs.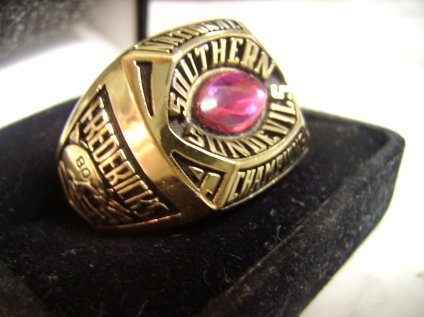 "One Ring to rule them all"
Returning to the hobby, do you remember your first sculpture?
The first thing I sculpted with Green stuff was a dodgy looking cloak and helm that I put on a converted model to create the character of Anarion (brother of Isildur). It featured the top half of Aragorn and the bottom half of Gamling. My first scratch sculpt was my Watcher in the Water model, which I was quite proud of at the time.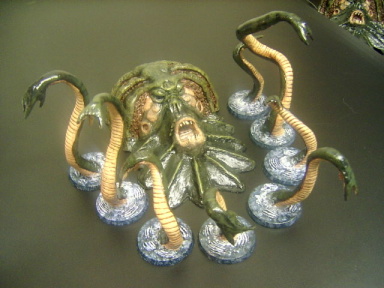 How much time does one need to achieve proficiency in sculpting?
There isn't really a set time. It's the same as learning any new skill really. Some people have more of an aptitude for art and can pick things up more quickly than others, and I am fortunate to be one of them. My skills are growing though with each new sculpt, and practising only makes one better, I say. Get comfortable with the correct techniques first. There are quite a few sculpting technique tutorials online that I found invaluable. Then practice with proportions. If you are having trouble with this then start with a sculpting puppet to sculpt over until you get more proficient.
Which of your sculptures is your favourite?
Mindless Theoden on his throne. Probably not my best sculpt but definitely my favourite. I love the scene from the Two Towers when Gandalf frees the King of his curse.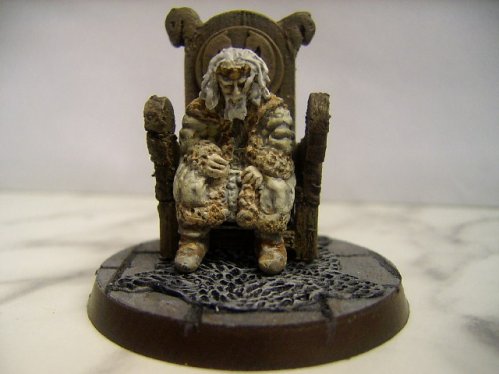 "My favourite sculpture"
Looking at your works, it is obvious that they all can be used in LotR strategy battle game. Do you plan sculpting minis for other systems in the future?
I am definitely going to stick with Fantasy for the foreseeable future, but you will probably see some mythical models appearing that aren't necessarily adaptable within the LotR system such as Centaurs and Griffins for example. I have a maiden on a winged horse also pencilled in somewhere down the pipeline. These models probably won't be as successful commercially, but I sculpt what I like to see, and I like mythology.
Apart from sculpting and painting, do you also play miniature battle games?
Very rarely. Little skirmishes at the firehouse during stand down period is about the best it gets for me now. My kids are taking more of an interest now they are a bit older, so I will teach them soon and hopefully be able to get a few more games in.
You have your own website ( http://www.majesticbear.net/ ). What can we find there?
It has been a long while coming but the design team (Klaas and Floris) have done a very nice job on it. There is the standard home/news page, a page just about me, product and ordering info, a page where I feature my own converted models, sneak peak section for work in progress and customer gallery to show off your painting skills!
Thank you very much for the interview. Before we finish, I'd like to ask you what advice would you give to an artist just starting out?
Research your subject, practice techniques before applying them, and don't be afraid to ask for advice!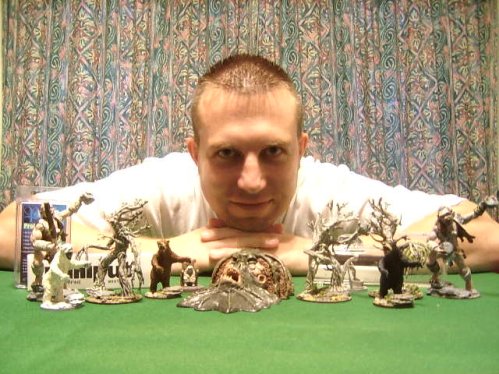 A 'family portrait'

_________________
Independent Painters


Comments
There are no comments to this article.
Rate this article
Related Articles

This article is currently rated at 3
0 votes have been cast.
Who is online
Registered users: bigpopz84, black1blade, Coenus Scaldingus, Dead Marsh Spectre, Hill-Troll, Kevin from Mitril, Leonardis, madfrog2000, mertaal, orc-archer, Rangefinder, samoht, SouthernDunedain, ukfreddybear