| | |
| --- | --- |
| | It is currently Sat Dec 07, 2013 6:08 pm |
View unanswered posts | View active topics
Assembling a Toolkit for Terrain Making
Article ID:
1

This article has been viewed 1796 times

Written by:
Dagorlad
Written on:
Sun Aug 29, 2010 4:18 am
Article Description:
A description of some basic tools and their uses.

External link to this article:

http://www.one-ring.co.uk/kb.php?a=1
You don't need to have a workshop filled with hundreds of specialised tools in order to make terrain models for the table-top. But getting started is often a little daunting for the newcomer. What tools are needed, and which ones are more useful than others?
I have put together a "Terrain Maker's Tool-kit" and have split it into three categories: the tools I consider to be
Essential
, those that are
Highly Recommended
, and some that are
Nice To Have
.
The Essentials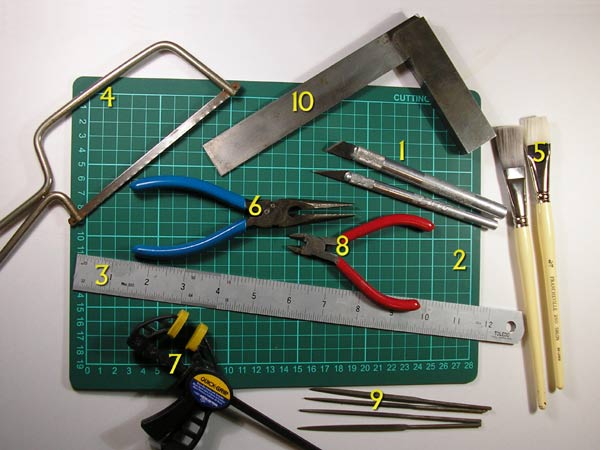 #1 : Hobby Knife
Absolutely top of the list! This is the first item you should buy and (thankfully) one of the cheapest too. Sometimes called an 'Xacto' knife, these tools are essential for cutting all manner of thin materials, such as balsa wood, styrofoam and plasticard. Replacement blades are sold separately and come in a variety of shapes and sizes, with the most useful being a straight edged blade.

Available from hobby shops, craft shops and some hardware stores.

Hobby Tip
You can use the back of the knife blade for scoring lines in plasticard or balsa. Turn the blade upside down and score a line into the material using the tip of the blade - you don't get as much of a ridge forming along the cut this way.
#2 : Cutting Board
A self-healing cutting board. Found at hobby shops, art suppliers, and craft shops (the cheapest place), it is strongly recommended that you get a large one (at least A3 in size) and keep it well away from your paints!
The hard plastic surface is ideal for pressing against when cutting through tough materials, and any cuts you make into the surface will close over and not affect the mat. Never saw or drill through items that are placed on the mat, as this will cut a chunk out that cannot be repaired.
#3 : Steel Ruler
A steel ruler is the second most useful tool to add to your kit. Used for keeping your knife straight when cutting through various materials as well as (obviously) measuring things, aim to get one with both imperial (inches) and metric (millimetres) measurements. Get a standard 12"/30cm length one first and then, once your toolkit has grown a little, think about getting a smaller one (6"/15cm) and a longer one (36"/90cm).
Look after the ruler and try to avoid denting the edges and you'll get many years of use out of this tool.
#4 : Hacksaw
Hacksaws come in various sizes for different jobs. The Junior Hacksaw is the most useful to start off with, being a good all-round tool that will meet most of your needs. A coping saw is also very useful for cutting irregular shaped bases etc.
#5 : Large Paintbrushes
Painting large areas of terrain such as castle walls or hillsides requires a much larger brush than you would use for painting miniatures. We recommend getting one at least 1 inch wide, preferably around 2 inches.
#6 : Pliers
Long-nose pliers are more useful in this hobby than regular pliers as their long tapered jaws are ideal for holding small items or reaching into hard-to-get at places. Smooth jawed pliers are also available, but you may have difficulty finding a place that sell them - try hobby stores.
#7 : Clamps
There are a number of different types available. Try and avoid the types that are spring-loaded since the torsion in the springs is often strong enough to cause the clamps to dent softer materials such as styrofoam and balsa wood. The most useful ones for terrain making are manually adjustable clamps, including "bar clamps" and "G clamps."
#8 : Clippers
Clippers, or wire cutters as they are sometimes known, are excellent tools for cutting small lengths of wire (hence the name). Some models have spring-loaded handles but this is not essential. Available in various sizes, it is better to get a larger size than a smaller one at first.
#9 : Needle Files
A set of small needle files are cheap and easy to find in hardware stores and are useful for shaping plastic or metal. You can pay a fortune for high quality Swiss files, but are really not worth the money for working with miniature figures or timber - go for the cheaper variety.
#10 : Set Square
A carpenter's square, or set square, is used to mark out perfect right angles. Hobby shops and hardware stores sell a variety of sizes, but a small, six inch version is all you need.
Highly Recommended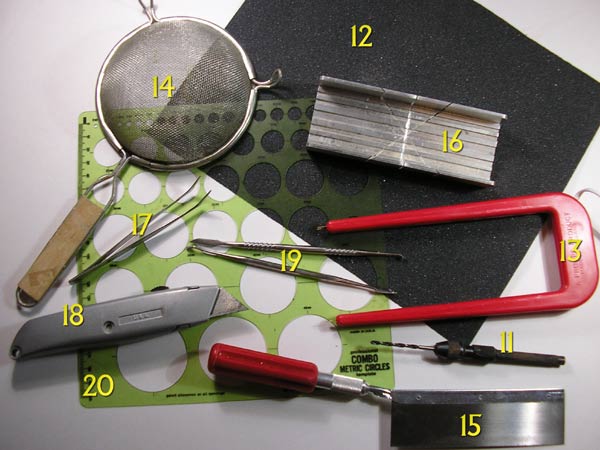 #11 : Pin vice
A small hand-held drilling device. Useful for drilling small holes through reasonably soft materials (wood and plastic).
#12 : Sandpaper
Sandpaper is used to smooth the surfaces of various materials, such as plastic, wood or styrofoam. Many different grades of sandpaper are available, some coarse, some fine. A selection of grades is recommended.

Wet-dry paper is especially designed for use when polishing metal surfaces. The idea is to wet the surface to be polished and rub with the wet-dry paper. The finer the grade, the brighter the polished results will be.

Hobby Tip
Get (or make) yourself a sanding block - a small rectangular piece of wood or cork that you wrap the sandpaper around and hold while sanding things.
#13 : Hot wire cutter
| | |
| --- | --- |
| A tool used for cutting softer plastic material such as expanded polystyrene or styrofoam. A small nickel silver wire is heated by an electric charge and it melts the plastic on contact. You use the wire to make cuts through the plastic. An extremely effective way of cutting foam, this tool gives precise results with very little mess. | NOTE: The fumes given off from melting plastic are quite noxious and so always do this in a well ventilated area, and use a face mask if possible |
#14 : Kitchen Sieve
Used when spreading sand and flock to give an even coverage and also to strain out larger particles, such as small stones or twigs. These are readily available from household utensils shops (and a very nice one lives in that drawer in the kitchen).
#15 : Modellers Saw
Also known as a razor saw, this is a thin-bladed saw that is very useful for making precise cuts, while taking away only the barest minimum of material with each cut. The blade itself is fairly flimsy and can be bent with rough use, so treat them with respect. replacement blades of various sizes can be purchased also.
#16 : Mitre-box
A small tool that is used in conjunction with a razor saw (see above) to achieve precise 90 or 45 degree cuts. If you ever intend making model structures out of timber then this tool will prove invaluable. Can be purchased from hobby shops.
#17 : Tweezers
An extremely useful tool - get a couple of pairs! Many different shapes and sizes are available, but we recommend you get a basic flat headed pair and a sharp pointed pair. Specialist tweezers can be purchased from hobby stores, craft shops, electronics hobby stores, and hardware shops, but a basic pair can be readily found in your local supermarket.
#18 : Stanley Knife
A sturdy knife with a retractable blade. Used for cutting through dense materials such as carpet and thick foam. Replacement blades are sold separately. As with all cutting tools, use with extreme care. Readily found in hardware shops and are quite cheap.
#19 : Sculpting Tool
Handy for shaping modelling putty (such as Green Stuff or Milliput. These come in a variety of shapes and can be a little expensive, but are exactly the tool needed to work with modelling putty. They can be purchased from online suppliers such as Ebob Miniatures, Foundry, and the 4d Modelshop.
#20 : Circle Templates
These are great for drawing circles (hobbit doors, arches, etc) when designing or marking out your terrain pieces. Don't be tempted to use the template to guide your knife blade when cutting the shape out - the soft plastic is easily cut by the knife and you'll ruin the template itself. These can be purchased from art suppliers and good stationery stores. They are a little expensive but are a good investment, although if you can't afford one of these initially, buy a simple compass - they'll do the job well enough.
Nice to have
Jigsaw
Used for quickly cutting irregular shapes in timber or metal, a jigsaw is a serious power tool and one that should be treated with respect whenever you use it. Always wear safety glasses when using power tools.
Dremel Multi-tool
A small hand-held power drill that comes with a variety of attachments for various jobs: sanding, sawing, polishing, engraving as well as drilling and routing. Additional accessories include a drill press, circular saw bench, routing frame and a host of others. Minicraft also make a similar product.
Conclusions
As you can see, there are quite a few tools in this toolkit, but your collection really starts the moment you buy your first hobby knife. Many of these tools you will already own if you have been painting miniature figures for a while, but some may be new to you. This list is not exhaustive by any means - you will no doubt add new items to your toolkit that aren't listed here (I certainly have), but these should give you a good starting point from which to build up an extensive array of tools.
Happy modelling.


Comments
There are no comments to this article.
Who is online
Registered users: Adanedhel88, aelfwine, Armandhammer, crixalis, Fishlegs, Gene Parmesan, LordElrond, RefluentMonk, rigg1313, SidTheSloth, ste271276