| | |
| --- | --- |
| | It is currently Tue Dec 10, 2013 9:43 pm |
View unanswered posts | View active topics
Details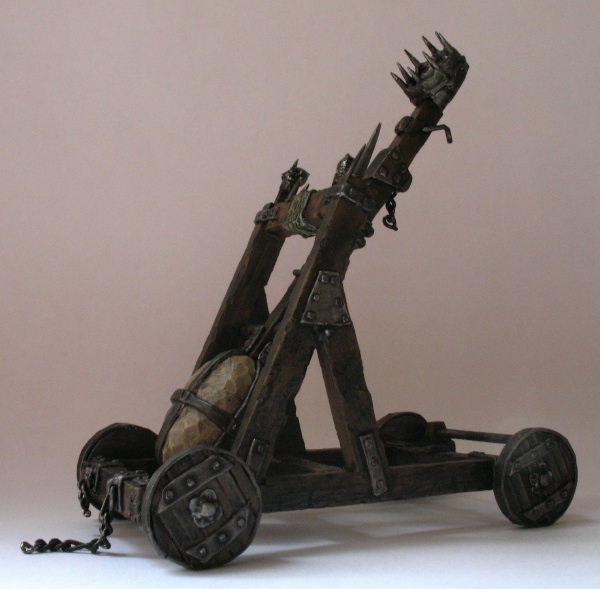 Details

Uploaded by:

Natarn

Imagename:

Scratch-built Orc Catapult

Image BBCode:




Image-URL:

Uploaded:

Sun Mar 06, 2011 2:48 pm

Views:

683
| | |
| --- | --- |
| Image taken on: | Sat Aug 15, 2009 1:51 pm |
| Focus length: | 7.3 mm |
| Shutter speed: | 1/8 Sec |
| F-number: | F/8 |
| Whitebalance: | Manual |
| Flash: | Off, Red-eye reduction |
| Camera-model: | Canon PowerShot A620 |
| Exposure bias: | 0 EV |
| Metering mode: | Pattern |
Author
Comments
valpas

Posted:

Mon Mar 07, 2011 7:02 am


Joined: Tue Mar 02, 2004 11:59 am
Posts: 743
Location: Tampere, Finland

The catapult looks really good, but the photo is a bit dark to show the paint job, which also seems to be very nice. The slightly worn out look of it is right on the spot, just like an orc-made catapult would look like.


_________________
http://pasiminis.blogspot.com/


Natarn

Posted:

Tue Mar 08, 2011 4:38 pm


Joined: Fri Mar 02, 2007 8:05 pm
Posts: 719
Location: Near Bath, England.

It's got a dark paint job!


_________________
I'm cured! Backlog = 0


SidTheSloth

Posted:

Wed Dec 19, 2012 4:35 pm


Joined: Sun Jun 10, 2012 8:52 pm
Posts: 1661

Very, very neat!

nice and orcish


_________________
'But God demonstrates his

love

for us in this: While we were

still sinners

, Christ

died for us!

'


GothmogtheWerewolf

Posted:

Wed Dec 19, 2012 9:32 pm


Joined: Thu Jun 23, 2011 3:04 pm
Posts: 5642
Location: Lording over the Crossing

I agree with the Sloth, it looks like the official one. Of course from you, one would expect no less


_________________
"I am the Flying Spagetti Monster. Thou shall have no other monsters before me"
-FSM.


UNKNOWN

Posted:

Fri Feb 01, 2013 10:16 pm


Joined: Mon Jan 21, 2013 8:42 pm
Posts: 37
Location: In the shadows....
Sacrilege83

Posted:

Tue Feb 05, 2013 7:00 pm


Joined: Wed Jul 08, 2009 1:13 pm
Posts: 1076
Location: Montreal, Qc, Canada

I almost made the mistake of thinking that this is the official GW orc catapult.


_________________
My Lotr backlog: 292/838

[]

[][

][

][][][][][][]

35%

completed
Currently painting: Mumakil