| | |
| --- | --- |
| | It is currently Thu Dec 05, 2013 4:31 pm |
View unanswered posts | View active topics
Details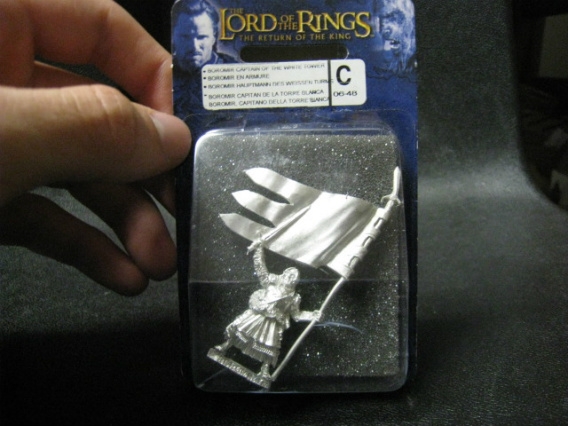 Details

Uploaded by:

Jamros

Imagename:

NIB Boromir, Captain of the White Tower

Image Description:

I figured it was worth sharing my recent new-in-blister purchase of the out-of-production Boromir, Captain of the White Tower. I'm really hesitant to open the blister, and even more hesitant to apply paint.

Image BBCode:




Image-URL:

Uploaded:

Sat Mar 10, 2012 2:26 am

Views:

556
Author
Comments
MacGothmog

Posted:

Tue Mar 13, 2012 12:02 am


Joined: Tue May 17, 2005 7:51 pm
Posts: 1030
Location: Porto - Portugal

Out of production for good?! Or just going to Finecast from now on?


_________________
Oh Christmas tree, oh Chrismas tree,
Na na na naaa naa naa naaaaaa...


Jamros

Posted:

Tue Mar 13, 2012 5:20 am


Joined: Mon Sep 01, 2008 11:24 pm
Posts: 671
Location: Lexington, NC, USA

MacGothmog--The model on foot holding the banner has been out of production for some time, actually--I'm pretty sure for good, or it would have likely been incorporated into the Finecast "Boromir (Ithilien)" blister pack.


_________________
"If you wish to make an apple pie from scratch, you must first invent the universe."--Carl Sagan

Last edited by Jamros on Tue Mar 13, 2012 5:28 am, edited 1 time in total.